Mishima: A Life in Four Chapters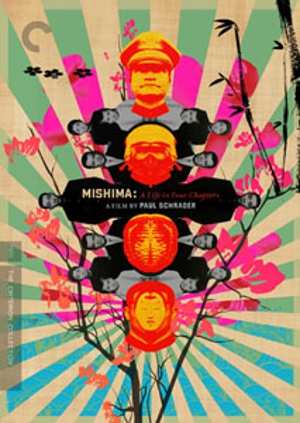 Director: Paul Schrader
Writer: Leonard Schrader, Paul Schrader
Cinematographer: John Bailey
Starring: Ken Ogata, Masayuki Shionoya
Studio: Criterion Collection

Beautiful portrait of tortured artist

With its meticulous execution, Paul Schrader's gorgeous examination of enigmatic Japanese novelist Yukio Mishima doubles as an homage to Japanese film and culture. Interpolating the last day of Mishima's life with scenes from his wrenching novels and his youth, Schrader evokes films like Kurosawa's Rashoman and Kobayashi's Kwaidan, while also exploring the themes of masculinity, honor and dedication that resonate both in Japanese culture and in the director's other work. As Mishima, Ken Ogata turns in a determined and bravura performance, while Phillip Glass' modernist score lends an ethereal, intense undercurrent. The pristine high-definition transfer brings out all the nuance of John Bailey's cinematography, and the host of great supplements—including a BBC documentary on Mishima's life—offers rich additional perspective.

Others Tagged With