Patton Oswalt gives graduation speech to alma mater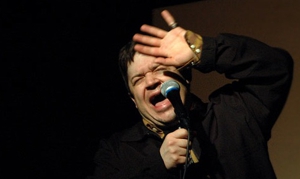 We all should have figured out a way to postpone our graduation dates and transfer over to Broad Run High School, alma mater of Patton Oswalt, where the comedian recently delivered the graduation speech.
On his website, he talks about being introduced on stage by the class' 4.35 GPA-toting Valedictorian ("That means she took extra classes in a PARALLEL DIMENSION, and then found a way to have the credits count in this one"), who then "shook hands with 2.71." He doesn't sweat it, though, as evidenced by his at-times hilarious, at-times touching speech that is all-times badass:


First off, I want to thank the teachers and faculty of Broad Run High School for first considering and then inviting me to speak here. It was flattering, I am touched and humbled, and you have made a grave mistake.

I'm being paid for this, right? Oh, wait, there's some advice, right off the bat - always get paid. If you make enough money in this world you can smoke pot all day and have people killed.

I'm sorry, that was irresponsible.

You shouldn't have people killed.

Boom! Marijuana endorsement eleven seconds into my speech! Too late to cancel me now!

And:
So now I'm going to try to give all of you some advice as if I contained fatherly wisdom, which I do not. I contain mostly caffeine, Cheet-o dust, fear and scotch.

Now,
hurry up and go read it
already! The only thing that could make this better is if we had the A/V to go along with it. Calling all parents of Broad Run High '08 graduates...
Related links:
News: Comedians of Comedy ready to die in San Diego
PattonOswalt.com
Patton Oswalt on MySpace
Got news tips for Paste? E-mail news@pastemagazine.com.
Others Tagged With