Robin Williams to play World's Greatest Dad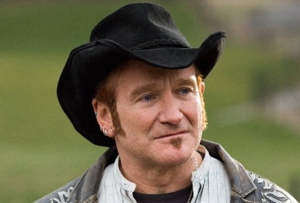 When not
dispelling
the notion of any involvement with the forthcoming
Donnie Darko
sequel,
S. Darko
, Richard Kelly and Co. have been brewing new material over at Darko Entertainment HQ. Darko folks Sean McKittrick, Ted Hamm and Kelly himself are teaming up with Process Media's Tim Perrell and Howard Gertler to produce
World's Greatest Dad
, a dark comedy with Robin Williams signed on as the lead.
In the film, Williams will play a high school poetry teacher and single dad who covers up the death of his son, caused by a
"freak masturbation accident"
(stay with us, here). He takes it upon himself to write a false suicide note, which the school newspaper then publishes without his knowledge. On top of the note, he pens of a false diary under his son's name, a process that ends up re-invigorating him as a writer. The film, under the direction of its writer,
Bobcat Goldthwait
(
Windy City Hea
t
,
Crank Yankers
), will begin filming in Seattle next week.
Darko Entertainment has a few other projects in the works to look out for:
I Hope They Serve Beer in Hell
is in production and
The Box
is in post-production. As for Williams, he's been linked to the forthcoming political bio-pic,
The Prince of Providence
.
Others Tagged With