Rock Band 2 set for September release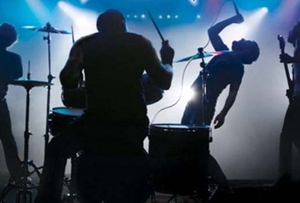 Who hasn't gone to an awesome live show and thought, "I want that! I want to rock that hard!" only to quickly realize that the last instrument you attempted to master was the recorder in third grade. (We're shaking our fists at you, "Frere Jacques.")
But then a beautiful revolution came about. In 2005, the first Guitar Hero was released, and in 2007, we were given the multi-instrument Rock Band. No longer would we be relagated to living out our rock 'n' roll fantasies at Thursday night karaoke.

Guitar Hero has already seen many reincarnations, from Legends of Rock, On Tour and more. Now comes the next generation for those that long for the full rock star experience, Rock Band 2.

The game, which incorporates guitar, drums and microphone peripherals, is getting its first upgrade since its initial release in November. The new version is set for XBox 360 release in September 2008. More platforms will become availible later in the year.

Rock Band has the distinction of only using a band's master tracks when incorporating its music into the game, and players are able to download additional songs online. Rock Band 2 features a backwards compatibility that will ensure that all previous tracks purchased online for Rock Band will work with the new game. All of the game's original instruments work as well. Additionally, Rock Band 2 will include new artists and new online modes for playing with others world-wide. The peripherals for the guitar and drum set have also been modified.

As if the two didn't face-off in the marketplace enough, Rock Band 2 will be looking at some stiff competition from the upcoming Guitar Hero: World Tour, set for release around the same time. The newest addition to the franchise will also use the multi-instrument format and gives players the ability to record their own singles.

Many of the game's new features are being kept mum until the 2008 E3 Media and Business Summit. Fans are hoping for more information regarding players being able to create their own music, such as Guitar Hero: World Tour promises to do.

No matter what you choose, both games promise to be entertaining. So raise your glass, tune that guitar, and get ready to rock. Even if it is just in your mom's basement.

Related links:
Wikipedia's list of Rock Band songs
Rock Band interviews Frank Black
News: Rock Band for Wii out June 22

Got a news tip for Paste? E-mail news@pastemagazine.com.

Others Tagged With