Rolling Stones start lawsuit beef with Lil Wayne, split EMI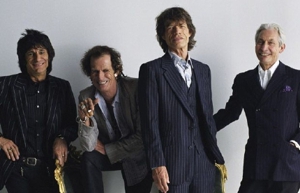 So, who's more gangsta: the Rolling Stones or Lil Wayne? Before you answer, consider the cinematic drug busts, the pacesetting debauchery, and the career-negating legal pimp slaps that the Stones and their handlers have laid down over the years. As Mick Jagger once sang, "Don't play with me, 'cos you're playing with fire."

Oh yeah... and speaking of that particular song... seems like Monsieur Weezy has crossed Jagger, Richards and the rest by sampling/appropriating/interpolating their '60s b-side, "Play With Fire" without permission on his Carter III track "Playing With Fire." Just ask Richard Ashcroft: all of those impressive sales figures for Lil Wayne's new album could be for naught if the Stones' publisher, Abkco Music Inc., has its way.

Abkco filed suit against Lil Wayne over the track, claiming the rapper's "explicit, sexist and offensive language" could make the Stones look bad by association. All of which proves that the suits at Abkco have never read the lyrics to "Brown Sugar."

Also named in the suit was Wayne's label, which is a cog in the great Universal Music Group juggernaut. And that leads us to the next little Rolling Stones news tidbit... according to Billboard.com, the band is leaving its previous roost at EMI and moving on to the wonderful artist's haven of... wait... Universal Music Group?

So let's get this straight: the Stones are starting a new relationship with Universal while their publisher tries to sue the company's pants off? And yet Universal sounds overjoyed to have the dudes aboard, mostly because having the Stones on your team is a license to print money. Now tell us...how gangsta is that?

Related links:
RollingStones.com
News: Kanye, Common, Method & Redman sued over jazz sample
Review: Shine A Light

Got news tips for Paste? E-mail news@pastemagazine.com.
Others Tagged With