Roman Polanski: Wanted and Desired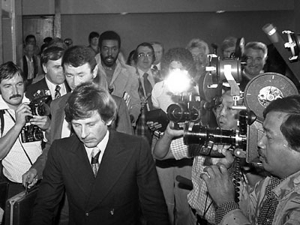 Release Date: July 11 (limited)
Director: Marina Zenovich
Writers: Joe Bini, P.G. Morgan, Marina Zenovich
Cinematographer: Tanja Koop
Starring: Roman Polanski, Mia Farrow, Jack Nicholson, Sharon Tate
Studio/Run Time: THINKFilm / HBO Documentary Films, 99 mins.

When Roman Polanski received an Oscar nomination for directing The Pianist a few years ago, it was widely reported that if he returned to the U.S. for the award ceremony he could be arrested. In 1978, he'd been convicted of unlawful sex with a minor and fled the country to avoid prison, and surely no statue short of the Maltese Falcon would be worth such a brazen test of the American justice system. Polanski won the prize, but he was absent from the ceremony.
In the new documentary
Roman Polanski: Wanted and Desired,
which is playing in select theaters and on HBO, filmmaker Marina Zenovich lays out the basic facts that led to Polanski's flight to Europe, and she doesn't deny his guilt. She does, however, provide enough context that a sympathetic portrait emerges. Regardless of anyone's final judgment of the man, there's no doubt that he's a tragic figure in many ways: his parents were killed by Nazis when he was a boy and he rebuilt a stable life in the U.S. as a filmmaker (making films like
Rosemary's Baby
and
Knife in the Water),
but then, at the height of his popularity and promise, his beloved and pregnant wife Sharon Tate was murdered by followers of Charles Manson. He rebuilt his life again and went on to make
Chinatown,
but
then
became embroiled in the case that has marked him for the rest of his life.
Zenovich traces this roller coaster with excellent use of archival footage, film clips and recent interviews, including a few brief conversations with the victim herself, all of which construct a picture of a media circus that ended in a farcical sentence. In this portrait, Polanski's escape seems like a reasonable reaction to a witch-hunt. The interviews with the victim are frustratingly brief, but they imply that even she regrets how things turned out. The film leans a bit too heavily on the idea that Polanski was a high-living artist who was rejected by a puritanical America and embraced by an understanding Europe ("wanted" in one locale, "desired" in the other). There's a kernel of truth in that, but it's inflated to the point of brushing aside a little matter of statutory rape. However, on balance, the film is a credible re-evaluation of a complex man whose films have managed to maintain their classic status even in a country where their creator has been disgraced.

Watch the trailer for Roman Polanski: Wanted and Desired:
Others Tagged With