Scarlett Johansson covers The Cure, more Tom Waits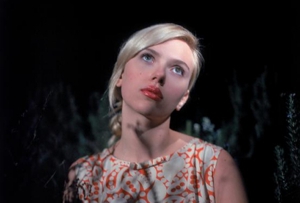 When Esquire refers to you as the "Sexiest Woman Alive," don't you think you could get someone to write you an original song or two?
We kid because we love, of course, but the covers keep coming from Miss Scarlett Johansson. And this time she has even added a sixth metaphorical father figure, The Cure's Robert Smith.

iTunes recently released Johansson's live sessions EP, which features six Tom Waits covers (five that were featured on her Anywhere I Lay My Head LP and her rendition of "Innocent When You Dream") and The Cure's ubiquitous(ly awesome) "Boys Don't Cry."

While we can't imagine an angst-ridden girl-in-the-corner Johansson sitting alone in her room sulking to Smith's vocals, her sultry yet sulky version of the song seems a more apt soundtrack to the Hilary Swank movie than a direct cover of Smith's original.

The EP is available for download on iTunes now. Extra points for you if you do anything more than listen to the 30-second snippets and immediately write some variation of "she's hot... but come on" or "she should stick to acting, but she's still hot." Originality, people.

Related links:
Reviews: Scarlett Johansson - Anywhere I Lay My Head
Scarlett Johansson on MySpace
Scarlett Johansson on IMDb

Got news tips for Paste? E-mail news@pastemagazine.com.

Others Tagged With