Zach de la Rocha, Jon Theodore form One Day as a Lion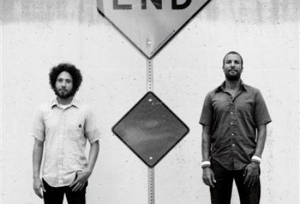 If given the choice to live one day as a lion or a thousand years as a lamb, there would be a few things to take into consideration. Would this lion be in a zoo or stalking prey in the Serengeti? Would the lamb be fluffy or...? Wait, who are we kidding? We'd totally go with the lion.
Zack de la Rocha, former Rage Against the Machine frontman, and Jon Theodore, ex-Mars Volta drummer, apparently agree, as they'll release their first collaboration under the moniker One Day as a Lion this coming Tuesday (July 22). According to the band, the name comes from a 1970 George Rodriguez photograph of a wall scrawled with the above question in statement form.

The two have been in cahoots since de la Rocha completed his never-released solo album with Theodore in September 2007. Whether or not the self-titled album is the former collaboration with a new name, or completely different set of songs is hard to say. But we can give you this tracklisting:

1. "Wild International"
2. "Ocean View"
3. "Last Letter"
4. "If You Fear Dying"
5. "One Day as a Lion"

Related links:
One Day as a Lion on MySpace
The Zach de la Rocha Network

Got news tips for Paste? E-mail news@pastemagazine.com.

Others Tagged With