Adam Schlesinger pens for Colbert, works on albums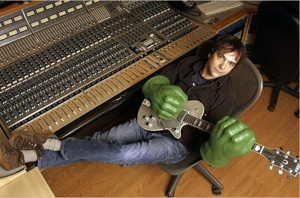 When Paste recently caught up with Adam Schlesinger, he said that he's an early riser. And it's a good thing, too, because the Fountains of Wayne co-founder's plate has more on it these days than an all-you-can-eat buffet.

Schlesinger revealed that he's been working on songs for
The Colbert Report
's Christmas special with
Daily Show
producer David Javerbaum. The team also collaborated on the
Cry-Baby musical
based on John Water's film, where Schlesinger learned a thing or two about writing for Broadway. "You have to learn to work with lots of people at the same time because every single change you make in the show involves every single department," he said. "It involves choreography, lighting and sets, so you're not really working in a vacuum."
With such wisdom—and a film resume that includes penning
That Thing You Do
's
hit title track
—it's too bad that Schlesinger didn't get the chance to work on Judd Apatow's
Walk Hard
. It's an opportunity he regrets missing. "A bunch of my friends worked on it, but I didn't get the call for whatever reason," he said. "I was really disappointed because that's the kind of stuff I love doing: parodies of different genres."
But Schlesinger's not missing many chances these days. He just finished producing Dashboard Confessional's new album, which he described as ranging from "straight-ahead power-pop" to "more acoustic and intimate." On the composition side of the musical divide, Schlesinger's New York-based indie-pop trio,
Ivy
, has a record that's "about halfway done" and hopes to release it in early 2009.
Through it all, however, Schlesinger has kept his "real focus" on Fountains of Wayne. Even though
Scratchie
, the label founded by Schlesinger and lead vocalist Chris Collingwood, has been in limbo since funding company New Line hit the skids, musical output won't be stopping. Both bandmembers are writing songs for a new album and have hopes of getting into a studio in the fall, though Schlesinger's not sure about any details just yet. "It's too early to say," he admitted. "I just have a lot of half-baked ideas right now."
Unfinished or not, Schlesinger hopes the process of a new album won't involve the kind of wait their fans endured for 2007's
Traffic and Weather
. "We won't take another four years for this one if we can help it," he said.
Paste
wasn't planning to re-enter Wayne's world until 2011, but sooner would be just fine for us.
Read the
full transcript
of
Paste
's interview with Adam Schlesinger.
Related links:
FountainsOfWayne.com
Feature: Under the Covers with Fountains of Wayne
IvyTheBand.com
Got a news tip for Paste? E-mail news@pastemagazine.com.
Others Tagged With