Band of the Week: The Uglysuit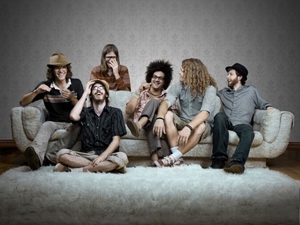 Hometown: Oklahoma City, Okla.
Fun Fact: The group's moniker comes from the hideously quirky finds its members have unearthed at thrift stores and, at one time, donned on-stage. "We actually have a slew of fans who will come to our shows in ugly suits," says keyboardist Jonathan Martin.
Why They're Worth Watching: Via a mix of lavish keyboards and ethereal touches, The Uglysuit serves up a generous helping of good vibrations.
For Fans Of: Travis, The Shins, Ben Kweller

"Okay, I've got to tell you this story," says multi-instrumentalist Crosby Bray of The Uglysuit, his slight Oklahoma drawl suddenly vibrant. The listener braces herself for the kind of madcap caper any newly-signed, all-dude sextet of early 20-somethings might get into under influence of cash advance.

"Two weekends ago, at a little bar called the Speakeasy," Crosby continues, setting the scene for what he sounds confident will be a defining moment in piano-effect-driven, tenderly psychedelic, indie-pop history, "we went into this extra five-minute musical session, and (keyboardist) Jonathan (Martin) started a clap frenzy and the whole crowd broke out into dancing and clapping."

And then. . . a silver-skinned genie emerged from band member Kyle Mayfield's bass guitar? Frontman Israel Hindman's Ben-Kweller-meets-Conor Oberst vocals gave out, and Don Henley suddenly jumped out from behind the bar to take over?

"And just seeing people be free and happy, that's what we're here for," Bray concludes.

Anti-climactic? Maybe to some. Like the Polyphonic Spree or the entire twee genre before them, The Uglysuit is earnestly dedicated to spreading good cheer. These upbeat intentions go beyond the superficiality of your avrage unicorn sweater and kazoo-ridden house-party, however. Tracks like "…And We Became Sunshine" and "Everyone Now Has A Smile" on the group's new self-titled debut on Touch & Go's Quarterstick imprint are comprised of lavish keyboards and ethereal touches that leave a more ponderable impression than the saccharine-sounding titles imply.

"I play at my church.," Crosby says. "So we're reaching for, I guess, more important things than ourselves. It's not about religion … but some of our music is definitely influenced by it."

Positive energy was not always the defining characteristic of The Uglysuit, which, though made up of people too young to rent cars at discounted rates, is approaching a decade's worth of history. "Me and my brother have only been together for life," Crosby notes of sibling guitarist Colin, adding that they met Hindman in middle school and began playing music with him in junior high.

"I'm not gonna lie, we kind of went into emo Finch-rock," Crosby says, rattling off a list of self-serious band names that chart their progression across the angst-core spectrum (Free Willing, Seconds on End, Nine Piece Orchestra). "We went into harder music, and almost hardcore, and finally made it to the happy music we were supposed to make."

Expounding on those good vibes again—it might be enough to make one fall into a Michael-Douglas-in-Falling-Down spiral of rage, if the songs themselves didn't channel a feeling akin to rolling the windows down in a car full of friends destined for a weekend of rock shows and bike rides in some great Midwestern metropolis. "Into a world of windy dreams," as sung in the band's catchiest track, "Chicago."

"Real happy, real epic and real loud," is how it's described by Martin, who met Hindman at Rose State University "four or five years ago," where the two of them habitually skipped class to play ping-pong because "that's just how (they) do." It was less than a full semester into the pair's college career when Hindman heard then-music major Martin "bam on pianos" for the first time, leading both to immediately drop out and tune in to optimistic musical expressions with the Bray brothers and Kyle Mayfield (and eventually, new addition Matt Harrison.)

"Down here in Oklahoma City, there's just not much to do but write music and play shows," says Martin, sounding as if his first-ever trip to Europe for a tentitive overseas tour will be a major, if welcome, shock to his senses. "I'm excited to get over there and exchange some dollars for Euros," he adds, the sanguinity coming across a bit more tongue-in-cheek this time.

Crosby sounds unlikely to be phased obstacles such as poor exchange rates, though, even sarcastically. "For me, it's about the whole beauty and mystery of what's going to happen next in this whole escapade," he says. "Everyone's as close as brothers, now."

Listen to a stream of The Uglysuit's debut album here.

Others Tagged With