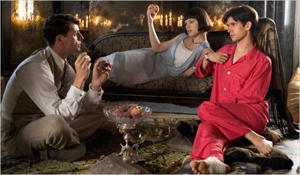 Release Date:
July 25
Director: Julian Jarrold
Writers: Jeremy Brock, Andrew Davies, Evelyn Waugh
Cinematographer: Jess Hall
Starring: Matthew Goode, Ben Wishaw, Hayley Atwell, Emma Thompson, Michael Gambon
Studio/Running Time: Miramax, 135 mins.
It was almost 30 years ago when the BBC miniseries Brideshead Revisited captivated audiences with its portrayal of early 20th century British aristocracy and Catholic guilt. The 11-hour series earned an Emmy for the late Laurence Olivier and catapulted Jeremy Irons into a successful, Oscar-winning career. Based on the popular novel by Evelyn Waugh, it now arrives to the big screen. Ironically, it appears smaller than its predecessor, though entertaining nonetheless.
When middle-class freshman and aspiring artist Charles (Matthew Goode) arrives to Oxford, he is befriended by the rich, spoiled party boy Sebastian (Ben Wishaw) who soon falls in love with Charles and introduces him to his severely dysfunctional upper-class family living in the grand estate of Brideshead. As their relationship grows so does Charles' infatuation with Sebastian's sister Julia (Hayley Atwell). But the real struggle comes from the siblings' mother (Emma Thompson) who is determined to guide her children into their proper places as Catholic royalty, much to the dismay of atheist Charles.
Although Thompson is wonderfully venomous, and Michael Gambon gives an adequate performance as the estate's absentee patriarch, the bigness is lacking, and the performances fall short of the original series. Goode pales in comparison to Irons, and Gambon, at no fault of his own, is simply no Olivier. The exception is Wishaw, who displays a fascinating, scene-stealing range of emotion. Still, this glorified soap opera, filled with a higher caste of desperate souls, makes Brideshead worth the revisit.
Watch the trailer for Brideshead Revisited:
Others Tagged With