Campaign underway to save Mister Rogers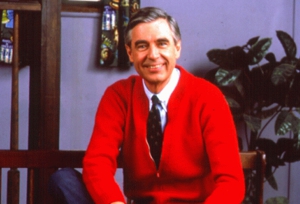 In response to a recent decision by PBS to cut Mister Rogers' Neighborhood from its weekday syndication, one of Rogers' biggest fans has started a campaign to save the show.

With a firebrand ferocity matched only by a certain red sweater, one Brian Linder has launched SaveMisterRogers.com to fight PBS's plans to change the once-a-day airing the Mister Rogers has seen for decades into a format that would distribute a single episode per weekend to member stations.

"It's something I feel strongly about," Linder explained in an e-mail. "Not because of my own nostalgic feelings for the program, but because I feel it is still such a special nurturing voice in the lives of children."

The show, which began in 1962 on Canadian television as a 15-minute program called Misterogers, moved to PBS and was re-annointed with its three-word title in the late '60s. Fred Rogers, the cardigan-enswathed namesake and figurehead, gently taught viewers about the world in all its facets—emotional, physical, spiritual—and was not afraid to deal with difficult issues like divorce and death. Rogers also penned Neighborhood's iconic theme, "It's A Beautiful Day In The Neighborhood," which played in episode introductions from 1968 to the show's finale in 2001. Generations of fans mourned his passing two years later, at the age of 74.

Linder extols Neighborhood's centrality to childhood development. "I was a highly-sensitive child," he writes at SaveMisterRogers.com. "It was Mister Rogers who taught me how to begin to deal with my feelings. I think he taught my parents a lot, too. I know I'm still learning from him."

Mrs. Rogers (Fred's wife, Joanne) recently blessed Linder's efforts, which include imploring kindred spirits to contact PBS at its headquarters or local affiliates, but no word has come back about plans for a policy shift. For the moment, it seems, the swelling grassroots of Mr. Rogers's neighborhood will continue to call out for just a few more beautiful days.

Related links:
Mister Rogers' Neighborhood on PBSKids.org
SaveMisterRogers.com
YouTube: Mr. Rogers Goodbye

Got a news tip for Paste? E-mail news@pastemagazine.com.

Others Tagged With