Janelle Monáe: Music You Can Believe In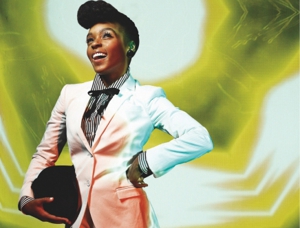 Hometown: Atlanta
Album: Metropolis: The Chase Suite (Special Edition)
Why She's Worth Watching: Janelle delivers daring, engaging, fun and thoughtful fusions of American music, and her live show can't be topped.
For Fans Of: Prince, Talking Heads, Barack Obama

"This is a historic night," the emcee shouts to the crowd. Waving blue and white inspirational signs, the assembly chants louder. The excitement is palpable. The diversity of the crowd—young and old, black and white, male and female—is itself a sign of the hope offered. When the shouts reach a fevered pitch, the guest of honor emerges. Welcome Janelle Monáe.

Sure, it's only a club show, but—Barack Obama allusions aside—it does feel historic. You can't help but feel you're watching the birth of a superstar. "I've just watched Prince, Michael Jackson, Anita Baker, Judy Garland and AC/DC all at once," a friend exclaims as we leave the show.

When I first saw the 23-year-old singer, I told my wife that I'd just had a Jon Landau moment—I'd seen the future of rock 'n' roll. Monáe—barely five-feet tall and backed only by a guitar player and drummer—delivered a performance unlike any I'd ever seen.

The Kansas City native bridges rock and soul in a way we haven't heard since the heyday of Prince. A performance at Sean "Diddy" Combs' restaurant, Justin's, blew away OutKast rapper Big Boi, who, along with Diddy, is credited as executive producer on Monáe's Metropolis EP. The disc is being co-released through Monáe's Wondaland label and Diddy's Bad Boy Records. "She's something I've never seen before," Combs told Billboard. "This is possibly the most important signing of my career."

Her influences include James Brown, Elvis, Judy Garland, Fiona Apple, Björk and Rodgers and Hammerstein, and her music flows naturally from that stew. "I wouldn't know rock was rock, or R&B was R&B, until someone said that's what it is," she explains in her Wondaland recording studio. "I just merely create the music and lyrics that feel good, and that move me."

The studio is actually a basement in the house of one of her collaborators, Delvin Franklin. In place of sterile glass windows and banks of mixing boards, there's an open floor plan, plush couch, salt-water fish tank, computer, microphones, popcorn maker and cotton-candy machine. The floor is covered in artificial turf. A few instruments are propped up around the room, and all along the walls are stacks of books. One wall features a display of Perrier bottles as a tribute to Andy Warhol and a reminder of his admonition, "Don't put a label on your art, let others decide what they think it is, and while they are trying to figure out what to call your art, you just continue to do more art."

As with Warhol, everything about Monáe is carefully considered. She pauses frequently to make sure she's saying precisely what she intends. She and her entourage are dressed in tuxedos (sans tie). An "experience architect" serves dinner. She reaches back to the 1927 German Expressionist film Metropolis for inspiration for her debut album.

It's part of what Monáe feels is her moral obligation to excellence and creativity. "It's up to me to be thinking each and every day and night, about how I can help with my art, how I can make an impact and influence certain disbelievers and doubters of happiness and hope." She wants her music to "remind the world that creativity, imagination and beauty still matter. That people the world over have the same concerns: They love wonder. And they love a good story, a good melody—products that are put together with care and engineered to heal the soul."

The singer says she wants to do in music what Obama (another inspiration) has done in politics. She says the politics of the music industry can drive listeners apart, and she describes what she's doing as a movement. She wants to alter history through music and die knowing that she did all she could to inspire and influence the world.

None of which is to say that fun takes a back seat to message in her music. Regardless of the story, "we want to make sure that the music is really funky, really pushing the limits—and just freeing," she says. She talks frequently about exercising her right to be free. That freedom rings loudly from the stage, where she darts around with the gleeful, unselfconscious abandon of a child. It's as if she thinks the microphone is a hairbrush and she's just prancing in front of the mirror, pretending to be the coolest thing ever. Except she just might be.

Janelle Monáe on MySpace
Back to Best of What's Next

Others Tagged With