Last Week on PasteMagazine.com: 8/11-8/15/08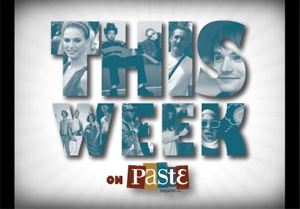 A good Monday morning to you and yours. My day is already off to a great start thanks to David Byrne and Brian Eno's new album, which you can download today. Since I'm a little late on PasteMagazine.com's weekly update, I'm going to break it down all quicklike for you...

Last week, we posted reviews of new music from Irma Thomas, Caroline Herring, Apollo Sunshine and PAS/CAL. Our artist of the week last week, Gentleman Jesse, is a personal favorite of mine. While you read our write up, open his MySpace page in another window and listen to "I Don't Wanna Know." I dare you to dislike that song. Lots of notable movies last week as well, including, A Girl Cut in Two, Henry Poole is Here, Woody Allen's new one, Vicky Cristina Barcelona, Elegy and, finally, Ben Stiller's Tropic Thunder.

Speaking of reviews, you may have noticed that we have review ratings back on the site. After we pulled them from the magazine/website, you, the readers, responded stronger than you ever have before. Now, they're back, in a more nuanced 0-100 scale. We hope you enjoy. But more than that, we hope you participate. As you can see on any of the reviews above, in addition to our rating, there is a user rating. Log in today and tell us what you think an album or film or book or game is worth. It's just one more way we're letting you shape Paste.

Last week's features including stories about CSS, Mark and Jay Duplass of Baghead/The Puffy Chair fame, Abigail Washburn (who is also blogging for us right now from China), Paste reader Sam Stroud, who visited a handful of shops from our Record Store feature, and, last but not least, Saša Stanišic.

Finally, have a look at our news section, because, as usual, the updates were abundant.

Hope everyone's having a good start to the work week. Thanks, as always, for reading. Talk soon...

Got news tips for Paste? Email news@pastemagazine.com.
Others Tagged With