Michael Phelps to release new autobiography in December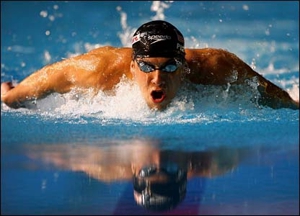 On Friday, 23-year-old Olympic swimmer Michael Phelps announced that he plans to write yet another autobiography, to come out four months after the paperback release of his first book. Built to Succeed will be published by Free Press, an imprint of Simon and Schuster, just in time for the holiday season.

At the Beijing games, Phelps became the record-holder for most gold medals won at a single Olympics, and most gold medals all-time. He holds a grand total of 16 Olympic medals, 14 of them gold.

His first book, Michael Phelps: Beneath the Surface, was co-written with Sports Illustrated staffer Brian Cazeneuve. It came out in 2005 and will be re-released this week in paperback with an update on Phelps' accomplishments. Beneath the Surface examined everything from his thoughts on record-setting performances to the collegiate days, particularly his November 2004 arrest for drunk driving. Built to Succeed will focus on his early childhood. Key topics include his single-parent upbringing and his struggle with attention-deficit disorder.

But it wouldn't be a biography of Phelps without the Olympics, and a series of bad pool-time puns. A good portion of the book will be devoted to his philosophy on training and competition. Built to Succeed will hit the bookshelves in December 2008.

Related links:
NBC Olympics Bio of Michael Phelps
MrPhelps.com
YouTube: Phelps at the 2008 Olympics

Got a news tip for Paste? E-mail news@pastemagazine.com.

Others Tagged With