Paste Reader Tours Coolest Record Stores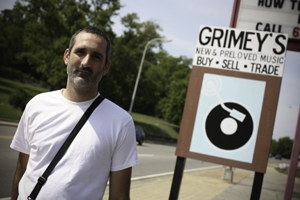 We had a lot of fun compiling (and arguing over) our list of the coolest record stores in the country, but one of the best things about doing a story like this is watching the reader responses pour in. On July 30, we received the following e-mail from Sam Stroud:
"Just wanted to send you a note, letting you guys know that as of this week, I am embarking on a record shop tour, heading off to the shops detailed in one of your articles in one of the last issues. I am bringing my camera and notebook.

I am extremely excited to do it and document the whole experience in detail. Just wanted to let you know. Thanks for what you guys do for music fans."
This seemed like a golden opportunity, so we asked Sam to send along his photos and notes once he concluded the journey (which began in Virginia, hit five of the 17 stores on our list and was about 1,700 miles round trip). The following is some of the highlights from what he sent us:
--
I could not believe we were actually making this trip. As soon as I read the article in Paste, I knew I wanted to go, but I wasn't quite sure that we would. We have talked about making trips out West, etc., but never really followed through. I am not quite sure what was different, but we headed out Sunday morning to Chattanooga, where we would stay with a family friend. It would become our launching point to five different record shops in four different cities across the South.
The rules:
1. one record per shop
2. one mulligan, meaning one record shop with two allowed purchases
Our first stop was at
Ernest Tubb Record Shop
in Nashville, Tenn. The anticipation was overwhelming. We all made bets on which of the five shops would be our favorite. For both Aaron and Jeremy it was Tubbs; mine was The Music Factory in New Orleans. We walked down the main strip in Nashville and made our way to Tubbs. As we walked in, the excitement was palpable.
The guys working the shop were great. If you enjoy Cash, Jennings and the like, this is your shop.
Our next stop was Grimey's. This record store was fantastic. The selection was huge for any medium. But specifically vinyl. There was a great selection of magazines on the rack and they had great music playing in store.
Let's rewind to the rules... I had no idea what to get. Not one clue. As I got to the Zs, I realized I had roughly 6-10 records in my arm. I had to pare them down, and did. I used Tubbs as my mulligan and then turned around and bought another record. I left Grimey's with Jeff Buckley and Beirut. And I decided I was getting a t-shirt at each shop if possible.

Our next stop was Shangri La in Memphis. We actually called ahead, knowing the shop closed at 7pm, and let them know we would be there. I think the actual conversation, or what I heard of it, went something like, "Hey, here is the deal, we are doing a record shop tour, like the one listed in Paste magazine, and we might be getting there right at 7pm. Look for three really tall guys, and I swear we are buying records."
It was a good size shop, and again, had a great selection. I thumbed through most of the records, but recalling a conversation with my friend Aaron in Grimey's about not having any Beatles vinyl, I came across the White Album. Now, they had an original, but the reprint had all sorts of posters and inclusions that the original didn't. And it was also about $70 cheaper. So that is what I got, and a green t-shirt. The clerk also gave me a free Sex Pistols button.

Next stop was the Music Factory in New Orleans. I was really excited about being in New Orleans. I had been there previously, and fell in love with that town. The culture is amazing, and as a photographer, that place is brimming with opportunity to shoot and shoot and shoot. I walked out of the store with some Willie Nelson and a black t-shirt.

Our final destination was Criminal Records in Atlanta. In the back of my mind, I thought this might be the best shop. I wanted to end on a really good note. We were definitely not disappointed. The selection was amazing. Not having a list really hurt me. I had no idea what to get! I got Beck's Modern Guilt album, The Ramones, and the new Mates of State album.
--
Thanks for writing in, Sam!

Others Tagged With