TV on the Radio's Adebimpe starring in Demme film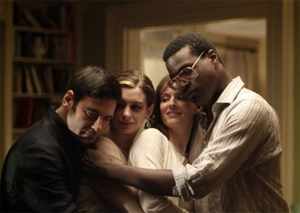 Three things happen like clockwork every year in the film industry. A juvenile, insert-genre-name-here satire makes a soul-crushing amount of money at the box office, a great comic-book franchise gets revived and retooled, and a limited-release indie film about family dysfunction
gets distributed to art-house theaters that smell like old people.
The latter of the three film styles usually has something to do with an artsy (read: chain-smoking) prodigal son or daughter returning home from The Big City for their tamer, more successful sibling's wedding, funeral, bris, etc. After the requisite backhanded compliments and subsequent familial screaming match, everybody has a good cry and learns something about life. The End.
(Not that there's necessarily anything wrong with that.)
Now we have
Rachel Getting Married
, a film about a chain-smoking black-sheep returning home for her successful sister's wedding. The prodigal daughter in this case is Anne Hathaway (
The Princess Diaries
,
The Devil Wears Prada
,
Get Smart
), playing a fast-talking, on-again-off-again model with an on-again-off-again love affair with rehab. The
trailer
features family fights, tears galore, and the line "This is not your family, but this
is
your family." Oh my. So what could possibly make this movie any different from the litany of
other
films
with
the
same
plot
(not to mention, that one
Daria
episode
) when it hits theaters in select cities on Oct. 3?
Well, since you asked, Mr. Jaded Movie Critic, quite a bit. First of all, the film is directed by the Oscar-winning director Jonathan Demme, who's skilled hand guided
Philadelphia
and
Silence of the Lambs,
not to mention the impeccable Talking Heads flick
Stop Making Sense
. And judging by the amount of
Vinterberg
homages in the trailer, Demme is pulling out all the arty stops with
Rachel
.
What's more, Tunde Adebimpe co-stars in the film. Yes,
that
Tunde Adebimpe
—
the one that fronts
TV on the Radio
in his spare time. The musician/actor plays the fiancé of the stable sister, and if the trailer is any indication, he seems to play a big part in the film. This isn't Adebimpe's first
foray
into acting. The Brooklyn musician previously starred in 2001's
Jump Tomorrow
, as well as 2004's
Exist.
You might also might recall that Adebimpe and his musical pals also have a
little album
coming out on Sept. 23.
In other Demme news, the famed director will chair the upcoming
San Sebastian Film Festival in September. At the Spanish festival, he'll debut a rough cut of his upcoming Neil Young doc,

Neil Young Trunk Show

. He's also in the beginning stages of a documentary on Bob Marley which he took over when Scorsese backed out due to scheduling conflicts.

Watch the trailer for Rachel Getting Married:


Others Tagged With