Tarantino rounds up Bastards, but no Britney after all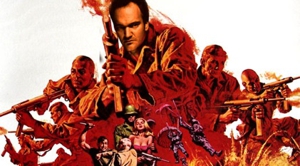 Inglorious as it may be, Quentin Tarantino has lined up a bevy of actors to join his unlikely band of bastards.

Already known for being hostel (zing!), horror director Eli Roth has signed up to play Sgt. Donnie Donowitz, a baseball bat-swinging Nazi hunter, in Inglorious Bastards, Tarantino's long rumored project about a band of WWII Jewish resisters in Vichy-era, France. Roth's breakout Hostel was executive produced by Tarantino, who also lent his name to marketing for the project, and Roth has previously made a cameo as an actor and a director in Tarantino's Grindhouse.

Brad Pitt is also rumored to have his eye on joining the brewd as the squadron's leader, and BJ Novak (former temp Ryan of The Office) is said to be talks to join the cast. Allegedly, Novak said he was "flattered to be his second choice after 'pass.'" (We kid, of course.)

Lastly, we are sad to update that apparently rumors of Britney Spears playing a lesbian killer in Tarantino's Faster Pussycat! Kill! Kill! are false.

Related links:
News: Britney Spears to star in Quentin Tarantino's Pussycat
News: Quentin Tarantino's Inglorious Bastards shooting in October
Quentin Tarantino on IMDb

Got a news tip for Paste? E-mail news@pastemagazine.com.
Others Tagged With