Teenager leaves high school for Guitar Hero career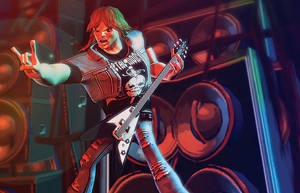 The band's gonna make it, Mom! I'm not going to be living in this basement forever!

Guitar Hero may have the side effect of serving as a gateway drug to actual guitar playing, but everyone's favorite rock star simulator may soon be sapping the attendance rolls of high schools nationwide. Yes, in a sublime moment of life imitating art, one plucky teenager has decided to forgo the rest of his K-12 education to try his hand at the professional Guitar Hero circuit.
If we needed any more proof that we are firmly in the grip of a postindustrial society, professional gamer is quickly becoming a legitimate career option. There's nothing new about dropping out of high school to pursue an ill-advised career in rock 'n' roll, but Blake Peebles may be blazing a trail once journeyed only by the saltiest of CounterStrike obsessives. The North Carolina teen has won several competitions already, and is now gunning for competitive gaming.

Dream big, little man. With any luck, you'll be a testament to the fact that someday, gamers everywhere will be able to legitimize their hobby in ways that don't involve quoting Fred Savage. Remember how your parents said you were wasting your time playing with a plastic guitar? You show them.

Related links:
News: Guitar Hero: World Tour adds instruments, downloads, more
GuitarHero.com
YouTube: Guitar Hero: World Tour trailer

Got a news tip for Paste? E-mail news@pastemagazine.com.

Others Tagged With