Fun Fun Fun Festival announces dates and line-up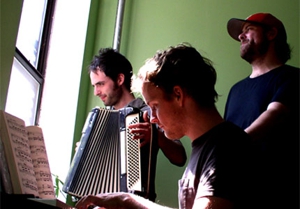 SXSW may be more popular, but it certainly isn't the only music festival rocking Austin, Texas, yearly. Beat the heat (and the crowds) at Transmission Entertainment's Fun Fun Fun Festival, which is held in Waterloo Park Nov. 8-9, features punk-rock legends (ALL, Flipper, Bad Brains) rubbing elbows with newer indie bands (Deerhoof, St. Vincent, The National), plus a whole host of other activities including band dunking booths, tattoo stands and comedy shows.
A two-day pass is $59.99 and available through Front Gate Tickets. Appearing at the festival in 2008:

Stage 1:
Clap Your Hands Say Yeah
The National
Atmosphere
Minus The Bear
St. Vincent
Trail of Dead
Deerhoof
Rival Schools
Islands
The Annuals
Bishop Allen
Centro-matic
Sleepercar
Frightened Rabbit
Spinto Band
Parts and Labor
Colourmusic
Experimental Dental School
27
Till We're Blue or Destroy
Paul Green's School of Rock...and more!

Stage 2:
Shearwater
Tim Fite
Magnetic Morning (Adam Franklin of Swervedriver & Sam Fogarino of Interpol)
Kevin Seconds (of 7 Seconds)
The Revival Tour w/:
Chuck Ragan (of Hot Water Music)
Tom Gabel (of Against Me!)
Ben Nichols (of Lucero)
Tim Barry (of Avail)
The Tim and Eric Awesome Show
The Cynics
Ugly Beats
El Paso Hot Button
Walter Schreifels (of Quicksand, Rival Schools, GB, YOT)
Coldtowne Comedy Hour
Pepi Ginsberg
Altercation Punk Rock Comedy Hour
Matt Bearden
Chris Fairbanks
Frank Smith....and more!

Stage 3:
Bad Brains
ALL
Dead Milkmen
Flipper
Adolescents
Integrity
Bouncing Souls
Swingin Utters
DOA
Cro-mags (jam)
Scared of Chaka (Dave from The Shins)
Young Widows
Leftover Crack
Trash Talk
World Burns to Death
Krumbums
Mammoth Grinder
Cute Lepers
Bitter End
High Tension Wires
Born to Lose

Stage 4:
Clipse
Z-trip
Dan Deacon
Grupo Fantasma
Kool Keith/Dr. Octagon
Dengue Fever
Brownout
Franki Chan
Toxic Avenger
Hawnay Troof
Starlynx & Bigface
Yacht
Richard Henry....and more!
Related links:
FunFunFunFest.com
Others Tagged With