ALA launches 27th Banned Books Week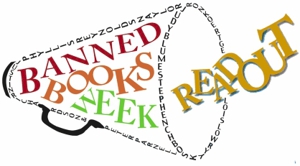 It seems fitting that this year's Banned Books Week began on the heels of Saturday's National Book Festival, hosted by Laura Bush in Washington, D.C. The freedom to read will be celebrated all over the country with events that typically include wine-and-cheese soirees at indie book stores, readings at metropolitan libraries and challenged-books displays behind glass cases in elementary schools. But there's an even simpler way to show your support your right to read what you want: pick up a banned book.

The classic options are, of course, J.D. Salinger's The Catcher in the Rye and Mark Twain's The Adventures of Huckleberry Finn, but even Gone With the Wind, Hamlet and Charlie and the Chocolate Factory have been banned by major libraries and organizations within the United States. The Harry Potter novels are a recent favorite, along with Lauren Myracle's TTYL, Peter Parnell and Justin Richardson's And Tango Makes Three and Robbie Harris' sex-ed tutorial It's Perfectly Normal, which was lately the instigator of a Maine woman's court-bound protest.

Banned Books Week was founded by the American Library Association in 1982. Last Saturday, the ALA hosted the week's biggest event in its hometown, Chicago, the annual "Banned Books Week Read-Out!" Several universities are also hosting read-outs, and, usually in that same collegiate setting, theater troupes and dance companies are putting on events to show their support for challenged literature. Check out, for one example, Indiana State's "Banned Books Out Loud," a performance featuring a series of vignettes crafted from both banned lit and media coverage of 2008 book challenges.

Banned Book events will run through Saturday. Find read-outs and performances at BannedBooksWeek.org or on the ALA's website.

Related links:
BannedBooksWeek.org
American Library Association: How to Support Banned Books Week
News: Laura Bush hosts her last National Book Festival

Got a news tip for Paste? E-mail news@pastemagazine.com.

Others Tagged With