Catching Up With... Albert Hammond, Jr.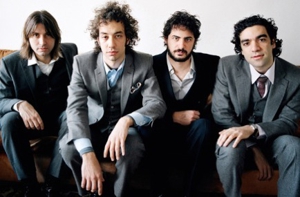 His dad? A prolific songwriter who penned tunes for Aretha Franklin and Whitney Houston. His band? A little New York rock outfit called the Strokes. The expectations for his solo material? Inflated, to say the least. But after years in the shadows as a rhythm guitarist, Albert Hammond Jr. is finally poised for the spotlight. His 2006 debut, Yours to Keep, was released to considerable critical success, and his sophomore effort ¿Cómo Te Llama?, which was released in July, is another step forward artistically for the 28-year-old.

After plugging the album in the UK, he returned to the States last week and took a few moments to talk to Paste about father-son bonding, what it's like to front a band and, oh yeah, that new Strokes album everyone's asking about.
Paste: It's been a busy month for you. How do you feel about the response to the album?
Hammond: People have been digging it, which I'm really happy about.

Paste: What initially sparked your decision to try some solo stuff?
Hammond: Before Yours to Keep, I had reached the point where I had songs that I thought were my best, and I realized that if I didn't go and leave the comfort of just making them demos, I would never grow, so I got some friends together and did it. After YTK came out, I wanted to do a second record and express another side of me.

Paste: And what's that second side like?
Hammond: For me, the first album had this dreamy, "whispering stories to a friend" quality to it. ¿Cómo Te Llama? is more the product of a band touring all over the world and getting more confident. It's less of a whisper and more of a statement. I was pushing myself in areas that I wasn't so strong in, which I think made me a better musician.

Paste: Your solo material seems to hop genres more than Strokes' songs [like the reggae-inflected "Borrowed Time"]. What freedoms do you have as a solo artist that you might not have in a group?
Hammond: I wouldn't say more freedoms. It's not just "my way or the highway." I mean, I'm open to discussion, and the band has to be excited about it. It's just different, in the same way that making album number four [with the Strokes] will be different than the previous three. Hopefully every album you put out pushes you and allows you more freedom.

Paste: I recognize that this directly follows a question about the Strokes, but I wonder: Do the Strokes comparisons piss you off?
Hammond: No, it's expected. I mean, I'm proud of the group. It's like when you have two dogs. You can't pick one over the other; you love them both for different reasons.

Paste: How have you dealt with the pressures of now being a frontman?
Hammond: It was definitely weird at first, because it's a whole new sense of nervousness. I'm so happy I did it, though. [Fronting a band] changes your perspective, because as much as it bashes your ego, it also helps establish it- in a good way. And now, going back to the Strokes, I'll have a new experience to share with them.

Paste: Yours to Keep featured several cameos [Sean Lennon, Ben Kweller, Strokes' frontman Julian Casablancas]. Did you actively try to make this album less guest-heavy?
Hammond: No, it just worked out like that. On YTK I had no band! It was written down as a "guest spot," but I would basically just call friends and invite them over to play. For the second album, there was no reason to call anyone in… though Sean was there one day and we had him play piano [on "Spooky Couch"]. It's fun to bring everyone into that environment. Hang out, play music, go home, eat dinner- that's always a good day.

Paste: What's the timetable for the fourth Strokes album? What new directions do you hope to take?
Hammond: We haven't gotten together in two years, so I have no clue where it'll go, but we're meeting towards the end of the year. My goal is to do something new and creative, that has mass appeal. I'm still shooting to be the biggest band in the world.

Paste: Are you looking for a new record label after your contract expires with RCA?
Hammond: No, not necessarily. It'd be nice to get records four and five done as soon as possible. I think it's important to finish your contract with a label and be able to go somewhere different. At the same time… yeah, it's got a little bit of that, because everyone we know [at RCA] is pretty much gone now.

Paste: Does your father ever offer you words of wisdom on the music industry?
Hammond: I only just started bonding with him musically. Growing up, I fell in love with music in my own way and never related the two; I'd just think, "That's my dad." I was more impressed with my friends' dads who were doctors, actually. One thing he's taught me, though, is that it's too easy to fall in love with what you create. You have to edit yourself, because it'll only get better.

Paste: How do you see the music industry changing in the coming years?
Hammond: There's always uncertainty in the business. When tape and CD went into production, everything resold and created a huge influx. Now it's going to have figure itself out again. But it's a great opportunity because the Internet lets you reach people in a whole new way.

Paste: What's next for you?
Hammond: I'll be touring in Australia for a few weeks, and then back to New York to perform [August 15 at McCarren Park Pool] and start preparing for next year. At the end of August I'm going on vacation and renting a house in the Caribbean with my girlfriend. I haven't had a break in four years, so it'll be nice to just eat healthy and hang out on the beach.

Others Tagged With