Catching Up With... Old Crow Medicine Show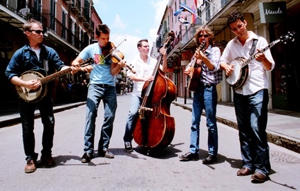 In the past decade, Old Crow Medicine Show has grown from nomadic old-time street buskers to big-stage, anti-establishment Nashville aces, selling out their hometown's venerable Ryman Auditorium last fall and returning for a two-night stand this October. In September, the rowdy string band revivalists will release their third full-length album, Tennessee Pusher, on Nettwerk Records. Despite the title, the disc took the band outside of its home state for the first time to record in the big lot confines of Hollywood's Henson Recording Studios, where they traded the guidance of Old Crow mentor David Rawlings, who produced the band's first two discs, for veteran studio ace Don Was (Bob Dylan, Rolling Stones, Bonnie Raitt's Grammy-winning Nick of Time).

Paste recently caught up with fiddler and songwriter Ketch Secor, who revealed a bit about the new disc and the band's never-ending obligation to play "Wagon Wheel," the band's one hint of mainstream country crossover success, now edging into the realm of frat-party anthem.

Paste: A few weeks ago you guys were seen busking on a street corner in New Orleans. Since you're now selling out theaters, what keeps taking you back to the streets?
Ketch Secor: We like playing for big crowds, and the goal all along has been for people to pay a little to come and see us. But it all started on street corners, and that is still very connected to what we do. It's such a validating musical experience. Busking is a very humble and brave act that takes courage to do well. It's also about the energy of music being alive outside in a city—much more powerful and revelatory than putting on your iPod shuffle. You can walk right by it right in front of you. Sure, to some people you're just another guy with his hand out, so sometimes busking can be great social barometer. You're able to gauge who you live with on earth.

Paste: Is this a better feeling than playing at the Ryman?
Secor: If you're going to get the feeling of getting high on music, you're going to get it anywhere. But there's a good chance of getting it at a sold out show at the Ryman.

Paste: You guys went into the studio this time with Don Was, who has a ridiculous resume. What did he change about the sound of Old Crow?
Secor: Nothing. He left it alone. He just asked us to write good songs and sing our hearts out. The sound is still very much roots music the way we've been playing it. We wrote all of the music on this record, so this time you're not going to hear us doing a rave up of an old string band classic.

Paste: What was it like moving from Woodland Sound Studios in Nashville to record in Hollywood at Henson?
Secor: Charlie Chaplin built that studio in the teens. It was a movie lot for a while, and then it became a TV studio where Perry Mason was made. It was a lot with parts devoted to making movies and animatronics. It was a lot different because there were other artists working there. Up the hall was Billy Bob Thorton, who we hung out with a bunch. And a few doors down was Jessica Simpson, who we just saw in passing. At Woodland Sound it was just us and Dave [David Rawlings] and Gil [Gillian Welch].

Paste: Was there hesitation leaving the hand of David Rawlings, who has been with the band since you first got a record deal?
Secor: Not really. We got so much out of making two records with Dave, and we'll have that with us throughout our career. He taught us things as a producer, a songwriter, and a player. He put a lot of his heart and soul into the Old Crow Medicine Show, and that will always be in the picture of this band. I feel no closer kinship in Nashville than I do with Dave and Gil.

Paste: Some of the new album songs have been popping up in your recent set lists. Fans seem to dig "Methamphetamine." Another classic Old Crow drug song, maybe this album's "Cocaine Habit"?
Secor: I actually wrote that song with Dave. It's about how meth is gonna rock you like a hurricane. It's a rocking song, and it's kind of spooky. Everybody likes to sing a drug song. People have been singing about getting high for 500 years, and it's still fun. But this song is more of a cautionary tale in a Southern Highland coal town setting. A lot of Kentucky and West Virginia went into it.

Paste: Another one is "Motel in Memphis." Obvious historical biography?
Secor: I think this song is going to be illuminating. Memphis is a mess. People have no idea. There's a poverty going on there that's unknown to most of America. It's about Dr. King and a whole other cast of characters. Except I wanted to keep it in the present tense—40 years ago sped up to now.

Paste: Fans have been wondering about the recent line-up of the band. Is singer-songwriter Gil Landry now a full-time member or will Critter Fuqua be back?
Secor: I don't know. That's up to him. We have to move forward and keep doing what we're doing. I can't convince Critter to come play all over the country with us. I've been playing music with Critter since I was 12 years old, and I'm not worried about never playing with him again. Other people shouldn't worry about it either. I'll be playing with him until I'm an old man.

Paste: You've had a hint of crossover success with the CMT crowd and beyond thanks to "Wagon Wheel," a song you concocted with a Bob Dylan chorus. Tell me about writing it.
Secor: I wrote it in my senior year of high school when I was 17. It's an autobiographical tune that I couldn't write now. When you're younger you tend to write better when you write good at all. Critter actually brought the song to me on a Dylan bootleg he found in England. It's an outtake from the movie Pat Garrett and Billy the Kid, and Dylan never finished the song. I've been playing it for years, but it wasn't until recently that people started freaking out about it.

Paste: Do you get sick of playing it every night?
Secor: As far as my love affair with it—it probably needs to be rekindled. I've had plenty of time to fall in and out of love with it. I don't mind playing it every night. I like to see what it does to people, and it's nice to have something that's guaranteed, especially when you're shuffling through new material. Sometimes people get obnoxious about it, but I've been obnoxious at shows and screamed shit until I was blue in the face. It's celebratory, so I don't really mind.

Others Tagged With