Catching Up With... It's Always Sunny in Philadelphia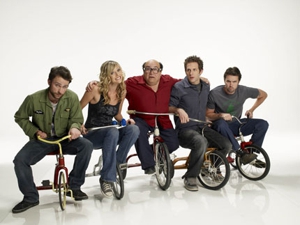 Page 1 of 2
Since the early days of the boob tube, it's been evident that a sitcom can't survive without a strong cast of characters. And of the thousands that march across our screens from week to week, a few have managed to stand the test of time. From Lucy Ricardo to Mary Tyler Moore to George Michael Bluth, viewers most often connect with those personalities that bring just a bit more joy into our black, black hearts.

So when Rob McElhenney set out to create his own TV series, he looked back upon these beloved faces from sitcoms past and opted not to emanate their charming personas but instead replace them entirely. With a group of assholes. The result? It's Always Sunny in Philadelphia, a show completely devoid of likable characters
—OK, we'll give you
Green Man
—that still manages to be one of the most popular and hilarious things on television today. So popular, in fact, that
Sunny
has been
renewed until 2011
.
In August
, Paste
caught up with the men that make the show happen, McElhenney, Charlie Day and Glenn Howerton, about the upcoming season, drinking on set, and what's in a Charlie sandwich. You can reunite with the gang tonight (Sept. 18), when the fourth season of
It's Always Sunny in Philadelphia
premieres on FX. Oh, and if you choose not to tune in, McElhenney would like to let you know you're just "straight-up retarded."
Howerton plays Dennis Reynolds, the shirt-removing playboy with a strong affinity for Rick Astley. In addition to his on-screen work, he is also one of the shows producers and writers.
Paste
:
The new season starts in a month. Anything especially awesome or offensive we can look forward too?
Howerton:
(laughs) Are you implying that you find our show offensive?
Paste
:
It's offensive in the best way possible.
Howerton:
Good save. Of course we're going to be doing our usual thing where we're tackling issues going on in the world. We're going to be looking at global warming. It's a pretty big issue on everyone's wishlist of issues to tackle. We're also going to be attacking the issue of health insurance and health care. In terms of like going to those crazy places where most shows don't ever get to go, of course, we're doing that every show This season we're dealing with cannabalism, bankruptcy, we're doing an episode where we do a musical.
Paste
:
Oh, the Nightman episode?
Howerton:
Ah, well, yes, that could be it. We're also doing an episode where we travel back in time back to 1776 and "The Gang Cracks the Liberty Bell" is the working title.
Paste
:
There are quite a few of recurring jokes in the show. Charlie's illiteracy, Mac's thing for transsexuals, you taking your shirt off: Were these jokes planned out, or did you just realize, "Hey, I've taken my shirt off the last three episodes. Let's keep it going!
Howerton:
Well, the Charlie's illiteracy thing developed over the course of the second season. We started making jokes about his handwriting being illegible. During the jihad episode he writes a speech for us as we are making our terrorist tape and its pretty much unreadable. Ever since then we've sort of developed the idea that he's slightly illiterate, not completely, just a little bit. As far as the shirt thing, that was something I deliberately wanted to do for my character. An idea of a character being so vain that he can solve any problem by taking his shirt off is the sort of ridiculous thing I wanted Dennis to do. We've also had a couple of runner jokes about how Mac is obsessed with martial arts; there is going to be a lot more about that.
Paste
:
Your character, Dennis, is kind of an asshole. Do people ever expect that you'll behave the same way?
Howerton:
Of course it's impossible to know what people think when they meet me. I would almost expect them to expect that I'm a cocky and vain person in real life since my character is such a dick. They don't treat me with any trepidation or expect me to be an asshole in real life, so I don't think it's too much of an issue.
Paste
:
You recently had a part in the horror film
The Strangers
. What was it like to make the switch from horror to comedy?
Howerton:
A lot of fun. The director hired me because he was big fan of
Sunny
, and I read the script and thought it was great. We have so little time outside of the show to do anything, but it was kind of perfect because it was a one-scene thing. As a big horror-movie fan, I was a big fan of that script. None of us started off in comedy. We all started off doing things in different roles. Charlie and I had both done a sitcom. One of my biggest roles was on
E.R
. and Charlie was on
Third Watch
.
Paste
:
I hear you invented the
Rickroll
, Glenn.
Howerton:
I don't want to be Al Gore and say I invented the Internet or anything, but the truth is we made a Rickroll joke two or three years before Rickrolling came up. I remember Rick Astley as a kid. Me and my sister, we used to have fun impersonating how he sings, so when we first started doing the show, it struck me as funny to sing the song. All of a sudden somebody came to me about the Rickrolling thing. It's pretty wild. It's kind of an interesting phenomenon. Everybody knows who that fuckin' guy is now.
Paste
:
So we've established that your character Dennis has an affinity for Rick Astley, as well as glam-rock, but what music do you listen to when you aren't filming?
Howerton:
I think we all have pretty diverse musical tastes. My musical tastes aren't really the same at all to Charlie's and Rob's. One band I'm absolutely obsessed with is
Why?
This year they released an awesome new album called
Alopecia
. No one's every really heard of them, which is a shame because they are putting out some of the most interesting shit. I also love the rapper Cool Keith. I also still listen to stuff I grew up with. I'm a huge David Bowie fan, which is where all of Dennis' glam-rock obsession came from. I also like T.Rex and the Talking Heads.
Paste
:
In the show, you all spend quite a bit of your time at Paddy's. Is the bar on set fully stocked?
Howerton:
Those bottles on set, we've had them for so long. They're all really dirty and I couldn't honestly tell you if they're filled with alcohol or not. We have been known to drink the occasional beer on set. If we're filming, a lot of times we'll fill a beer bottle up with water or use non-alcoholic beer. But yes, certainly at the end of the day having a beer is nice.
Next up is Charlie Day, series co-writer, co-producer and co-star. His character, Charlie Kelly, manages to be both lovable and repulsive at the same time. Think Linus...if Linus had grown up to own a bar and huff glue.
Paste
:
You guys sound quite busy.
Day:
Oh yeah, always busy.
Others Tagged With