The Coathangers talk Suicide Squeeze full-length debut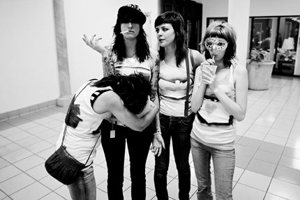 Atlanta's own Coathangers have made it clear they ain't Parcheesi, Monopoly or even generic Internet Boggle, but we keep playin' them over and over again anyway. We're also blithe as Buckhead Bettys over the foursome's recently-announced sign to Suicide Squeeze. Drummer Stephanie Luke said a new album should be out by April of next year, and that the Seattle label has granted them freedom to keep their DIY style fully intact.

"We want it to sound like us, not sound better than we are," Luke said, adding that, as with their 2007 self-titled debut, everything is being recorded live at their practice space on their own equipment with assistance from Nickel & Dime studio's Kris Sampson. "Kris describes it as a living, breathing animal, and that's how we feel. Otherwise people would be like 'who the fuck are these bitches?'"

Recording integrity confirmed, Luke was kind enough to share with Paste some new anger management routines/sources of inspiration for the tongue-in-cheek writers of "Nestle in My Boobies" and "Tonya Harding."


Rage-induced physical training: "We've got a song called 'Getting Mad and Pumping Iron.' When you just get so mad you just want to rip someones face off, and then, 'Maybe I shouldn't rip someones face off; maybe I should just go pump some iron.'"
Imaginary abnormal cell growth: "There's another one called 'Toomerhead,' spelled T-O-O-M-E-R, and that's just a song about a cancer. [It's for] when you talk to people and they're being douchebags. I kind of make up the idea, just so I don't get mad, that they have a tumor and cant help it."
Feelings: "We have sweet songs! One called 'Sonic You.' Like a slow jam. And one called '143,' which in pager terms [is 'I love you']. It's just about people we love and never even met. You think a person's going to be awesome: 143 pager code. We're taking it back to early '90s."
As flippant as these subjects may sound, keyboardist Candice Jones said the new record will demonstrate the group's technical growth as musicians over the past year. "All of us have a better understanding of our instruments," she said. "We're going to be trying to show what we've learned and make the recordings works of art."
Suicide Squeeze released the Coathangers'
Shake Shake/Dreamboa
t 7-inch, and has worked with myriad artists such as Minus the Bear, Modest Mouse, Hella and Pedro the Lion. To hear all this Coathangers mess live, catch the girls on one of the following dates. And if you piss any of them off, just pray the venue keeps a couple of barbells backstage.

September19
- Jackson, Miss. @121 Millsaps
20
- Birmingham, Ala. @ Bottle Tree
21
- Atlanta, Ga. @ Eyedrum
25
- Atlanta, Ga. @ The Graveyard
October8
- Atlanta, Ga. @ The Star Bar
24
- New York, N.Y. CMJ-Suicide Squeeze Showcase @ Pianos
26
- Cleveland, Ohio @ B-Sides
Related links:

TheCoathangers.com
The Coathangers on Myspace
SuicideSqueeze.net
Got news tips for Paste? E-mail us at news@pastemagazine.com.
Others Tagged With