Cold War Kids pen poem for David Foster Wallace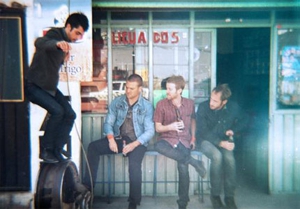 The Cold War Kids are feeling the loss of David Foster Wallace, who passed away Sept. 12. With their new album Loyalty to Loyalty out Tuesday, the band posted a poem to the late writer on their MySpace page. This Is Water is copied below:

First thing you taught me
Was to keep digging inside
At my intentions
Keep asking why why why

Second thing you taught me
Was to be sincere
Not like all these smart alec sarcastics
Drowning in fear

You reminded me -
This is water! And
It feels good to swim!
After you hooked me and you reeled me up
And threw me out again

Talked like professors
You talked like policemen and whores
You became so many people
I felt like I had known them before

The third thing you taught me
Is that when I'm waiting in line
At the supermarket checkout
That my time is not worth more than your time

Your head like a lightning rod
Your heart a cocoon
We certainly won't have another like you
Anytime soon.
Paste recently caught up with the band as well.

Related links:
News: Cold War Kids announce sophomore album details
News: Cold War Kids to release new album, tour
Review: Cold War Kids Loyalty to Loyalty

Others Tagged With