David Foster Wallace: 1962-2008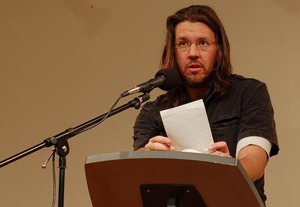 <small>[<em>Photo by Steve Rhodes</em>]</small>
"I just think that fiction that isn't exploring what it means to be human today isn't art."
-David Foster Wallace
A few years back, Time featured a piece titled "Who's the Voice of this Generation?" postulating that at age 44, David Foster Wallace was too old to be the voice of his. While he may have the talent and, "for a few twinkly, magical minutes interest swirled around Wallace," ultimately his work was just too dense and difficult to be something that caught the eye of the mass market. It's probably an exaggeration to claim that he was that voice, but for those willing to expend the effort, his books were every bit as important as Kerouac's or Salinger's. More valuable than reaching many, when Wallace touched his audience he touched them deeply.

Wallace was found dead by his wife on Friday evening. The death was apparently a suicide, which, while shocking, was certainly a topic Wallace spent his lifetime dealing with. Not only was this something that he worked on in "Suicide as a Sort of Present," "Good Old Neon," and Infinite Jest, but it was a personal issue for years. Following the publication of his second book, Girl With Curious Hair, Wallace checked himself into a hospital suicide watch. Even before this, he'd had lifelong depression issues that in some ways led him to writing. Feeling lost within his philosophy studies, Wallace took a year off from college and picked up the pen. During this period, he largely wrote his first novel, The Broom of the System, and on the strength of it, studied in the MFA program at the University of Arizona. Although Wallace later discounted Broom, the book is a minor masterpiece of postmodern fiction that follows closely in the footsteps of The Crying of Lot 49.

Wallace is best known for Infinite Jest, the sprawling, 1,079 page non-linear novel that redefined the landscape of American literature. Time listed it as one of the 100 best English language novels, and it earned Wallace a MacArthur grant shortly afterward. With it, Wallace attempted to break beyond the postmodern meta-fictionalists and truly do something unique. There is no doubt that Infinite Jest is a work of fiction that went somewhere new.
Even though Wallace always considered himself a novelist, his most-read body of work may be his non-fiction. Beginning with Signifying Rappers (co-written by his roommate and later National Book Award-finalist, Mark Costello), the book was one of the first serious studies of hip-hop music and the culture that surrounds it. Through the years that followed, he wrote about tennis, pornography, lobsters, John McCain and just about everything in between. Most of all, he wrote about life as an American at the turn of the century and did so with a miraculously discerning eye.

On a personal note, Wallace is a lot of what led me to writing. Even when working within characters or through pseudonyms, his voice was always clear and incisive. His ability to make anyone empathetic was combined with a passion to forge a direct connection to his readers that few artists of any sort have ever found. He wasn't concise or simple, but neither were the observations and feelings he wrote about.

At the time of his death, Wallace was working on another novel. His output of short works had slowed down from his normally prodigious rate, with his most recent full piece the hauntingly beautiful "Good People" in 2007. After giving a reading of "Three Fragments from a Longer Thing" at the end of 2000, Wallace finally published an excerpt from "Untitled Excerpt from Something Longer That Isn't Even Close to Halfway Finished Yet" as "The Compliance Branch" this past February in Harper's. The last time he did something similar was in preparation for Infinite Jest—it seemed inevitable that the next great novel was on its way. N+1 perhaps said it best:

"One could feel the anticipation mounting for the next Wallace effort, which would not only claim the awards denied Infinite Jest, but also galvanize public discussion in a rare way, like Catch-22 or the first final episode of Friends. Would the new novel be even bigger? (It seemed both logical and unlikely.) Or would Wallace pare out what many considered extraneous, leaving us with the leanest, meanest, 500-page novel in recent memory? When asked about his work-in-progress, Wallace responded by inquiring whether his interlocutor had ever read the pre-Socratic philosopher Parmenides, and, if so, whether he had done so under the influence of hallucinogens. There were rumors that the new novel had to do with porn."
Unfortunately, it looks like we'll never get to read Wallace's second magnum opus. Even though his life was cut short, he did leave an incredible output of beloved literature and at least a little more from him is left to come, with the film adaptation of Brief Interviews With Hideous Men on its way next year. Our hearts go out to Wallace's family, friends and students.

Related links:
Review: Oblivion Stories
Review:Consider the Lobster
Got news tips for Paste? E-mail news@pastemagazine.com.
Others Tagged With