Eminem announces return, mother still publishing memoir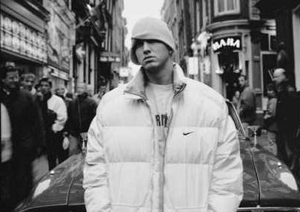 If Eminem and his mother Debbie Nelson want to finally get past that lawsuit seven years ago, dually benefiting from publicity surrounding the other's creative output might be a first step in these economically dismal times.
Planned or not, covering Eminem's announcement that his four-year hiatus may end with a new album before the end of the 2008
*
merits mention of Nelson's
forthcoming tell-all book
,
My Son Marshall, My Son Eminem
. And vice-versa. Either the two are in
cahoots
, or someone should add them to Wikipedia's categorically-organized
list of iconic archenemies
doomed to habitually feed off and be defined by their oppositional activities/narratives/world views.
That is, if Eminem even acknowledges the book in the album, which he claimed to be "banging out" tracks for during a recent broadcast of his Sirius station, Shady 45. (Having re-married and re-divorced Kim two years ago, he certainly has more than one source of family psychodrama, if that's something that continues to consume him artistically.) MTV said representatives for Eminem's label Interscope have no comment on the memoir. Set in stone for November, it lays out Nelson's supposed regrets over her son having ever been involved with hip-hop, wishing he'd have opted for farm or factory work instead. But then there's this (from MTV.com):

Cut off from her son's life, Nelson says she worries he's turning into a kind of hip-hop Elvis, sequestered behind the gates of his home, depressed and separated from those who love him.

"As a mother, of course, I worry," she writes. "But I do truly believe that Marshall will be back. I'm sure he's biding his time, waiting for the right moment, and when he does return, he will be bigger and stronger and more successful than ever. I know my son, and he just doesn't give up that easily."

Very coincidental! But oh well, at least dude's not laying the foundation of Graceland II out of spite. Yes indeed, it looks like he's back, back again, yadda yadda yadda, add it to your tumblr or whatever the "tell a friend" part translates to now.
And rustiness doesn't seem to be an issue for Eminem, who regularly lends a hand to other artists on his label. "The more I keep producing, the better it seems I get," Billboard reported him as saying. "I start knowing stuff, learning the boards like the back of my hands."
*Granted, it's almost a year to the date exactly that he last said he was "always working in the studio" on a new album that he joked would come out "tomorrow."

Related links:

Eminem.com
Eminem on MySpace
News: Eminem back to the lab for new album
Got news tips for Paste? E-mail us at news@pastemagazine.com.

Others Tagged With