Amidst busy and tour-filled year, Hot Chip unloads new EP's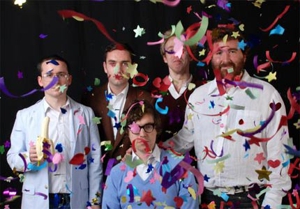 The boys of Hot Chip sure have had a massively busy 2008. They just put out a new album in February and have been touring ever since. Now, they're talking new EP's, tour dates and songs. Nope, you're not confusing them with Coldplay (though you'd be forgiven, those boys have a lot going on as well.) Hopefully new live drummer Leo Taylor, who recently finished a solo album, isn't ready to run for the hills quite yet.

The boys are already on a world tour through November, but found time to do a one-off show this week with Vampire Weekend. Kismet, since Hot Chip recently covered popular Weekend song "Cape Cod Kwassa Kwassa" with Peter Gabriel for a single due this fall.

Speaking of covers, Hot Chip also recently covered Joy Division's "Transmission" for War Child Music's benefit covers album, Heroes. The album will be released in the UK this November, but don't fret: the group plans to release the single stateside this fall.

What else is on dock? Well, the band just released an exclusive iTunes live EP with six songs from its May 8 show in Berlin. But don't ask Hot Chip about that. Talking to Billboard.com, founding member Joe Goddard admitted that the band is so busy he didn't even know his band had a live EP coming out. Something Goddard does remember is the collection of remixes from Made in the Dark that they plan to put out in a month. The title? Remade in the Dark.

Then, get this. The band has already gotten through half-a-dozen songs on its way to making a follow up to Dark. Hot Chip has already started playing one of the tracks, "Alley Cat," at shows. The album is due early next year.

Phew!

Related links:
Review: Hot Chip, Made in the Dark
Video of the Day: Hot Chip - "Ready for the Floor"
Catching Up With... Hot Chip

Got news tips for Paste? E-mail news@pastemagazine.com.
Others Tagged With