James Franco, many more cast in Allen Ginsberg biopic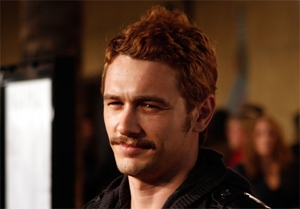 In the grand tradition of attractive Hollywood stars portraying iconic literary figures (think Nicole Kidman as Virginia Woolf, Anne Hathaway as Jane Austen, Joseph Fiennes as William Shakespeare, etc.), James Franco has been cast as groundbreaking beatnik poet Allen Ginsberg in the biopic Howl.

Howl, published in 1956, was Ginsberg's lengthy poem that served as a sort of diatribe against conservative America. Its then-taboo subject matter, including a blatant frankness about homosexuality and drug usage, led to a obscenity trail against the book's publisher. The film will chronicle Ginsberg's trial and controversy. Jeff Daniels, Mary-Louise Parker, Paul Rudd and Oscar nominees Alan Alda and David Strathairn round out the cast (thus far). Each play a character associated with the trial.

The role is a major coup for Spider-Man star Franco, who has been anointed "the next big thing" for a while but is capitalizing on that potential in a big way this year with a raved comedic performance as the stoner with a heart of gold in Pineapple Express. He will next be seen in the Nicholas Sparks adaptation Nights in Rodanthe, and will appear as Sean Penn's partner in the biopic of gay politician Harvey Milk in Gus Van Sant's Milk. Van Sant, incidentally, will serve as a executive producer on Howl. Rob Epstein and Jeffrey Friedman will direct their first feature after making a number of documentaries (including one on none other than the aforementioned Milk).

Ginsberg was briefly portrayed by a bearded David Cross in last year's Bob Dylan-inspired biopic hybrid I'm Not There. And as strange as it may sound, Franco and Cross both bear more than a passing resemblance to their real-life counterpart (at different stages in his life, of course).

Related links:
Review: Pineapple Express
YouTube: Milk trailer
AllenGinsberg.org

Got a news tip for Paste? E-mail news@pastemagazine.com.

Others Tagged With