Johnny Depp saddles up for another Pirates, much more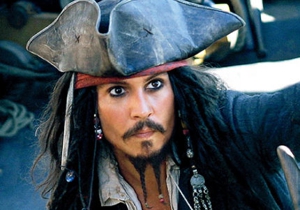 Hollywood golden boy Johnny Depp has essentially betrothed himself to Disney. Not only will he lace up his boots as Captain Jack Sparrow for a fourth Pirates of the Caribbean film, he has officially signed on to be the Mad Hatter in Tim Burton's version Alice in Wonderland as well as Tonto, a Native American who's one half of the crime fighting duo in an adaptation of The Lone Ranger.
Depp apparently made the announcement in full Jack Sparrow garb at Disney's Studio Showcase, where Jerry Bruckheimer revealed he will produce the fourth Pirates and The Lone Ranger (in addition to a third installment of the National Treasure franchise). It's unknown whether other Pirates stars like Orlando Bloom or Keira Knightley will return, and the crucial role of the masked title character in The Lone Ranger has yet to be cast. (Reports say George Clooney is circling the role.) Neither film has a release date.

Much more is known about Burton's Alice in Wonderland, set to hit theaters in 2010. The lanky Australian actress Mia Wasikowska (a star of HBO's In Treatment) has landed the coveted role of Alice. British actor Matt Lucas will play Tweedledee and Tweedledum. No other official cast members have been announced, though you kind of have to figure Burton's fiancé, Helena Bonham Carter, will figure into the equation (as the Queen of Hearts, perhaps?).

How many actors will be cast is unknown because the film will only be live action up until Alice falls down the rabbit hole, after which it will switch to 3D performance-captured CGI (think Beowulf or The Polar Express). The film marks the seventh collaboration between the kindred spirits Depp and Burton, running the gamut from musicals (Sweeney Todd), biopics (Ed Wood), stop-motion animation (Corpse Bride) to ill-advised remakes (Charlie and the Chocolate Factory). While there's a chance Alice in Wonderland could fall in the latter category, Lewis Carroll's classic appears to be a perfect match for Burton's brand of gothic escapism.

Even though it seems Depp has his plate entirely full (with the epic crime drama Public Enemies and his role alongside the late Heath Ledger in The Imaginarium of Doctor Parnassus both due in 2009), the rumors of him playing The Riddler in the next Batman flick will surely continue to gather steam.

Related links:
News: Johnny Depp and Gore Verbinski get animated
News: Tim Burton to cast Johnny Depp as Mad Hatter in Wonderland
Review: Pirates of the Caribbean: At World's End

Got news tips for Paste? E-mail news@pastemagazine.com.
Others Tagged With