Jordan McConnell of The Duhks' 10 favorite punk/metal bands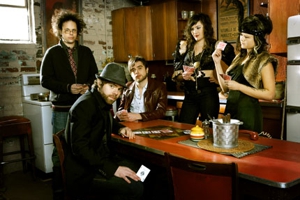 I grew up in Winnipeg. It's a dirty, struggling town on the eastern edge of the Canadian prairies and we have a winter that often spans eight months of the year. Four hours north of Fargo and effectively in the middle of nowhere, it's not the easiest town for a touring band to visit. But as a kid, I still managed to see some great shows. NOFX and Face to Face came through a few times when i was around 14, and I remember chipping my elbow after a front flip off the stage went wrong at a Green Day show that same year. Strung Out, Lagwagon, Satanic Surfers, Millencolin, 88 Fingers Louie, Hi-Standard, and tons of other bands from that era all came through at one time or another, and it was always great, but the local bands were always at the heart of what we were doing. Luckily, we had some great bands. Propagandhi, I-Spy, Mung, Malefaction, to name a few, were the staple of our small punk-rock community. These were the bands that inspired my friends and I to start our first bands, and I still listen to them today.
That being said, I need to point out that this list is not strictly metal bands. I listened mostly to punk bands as a kid, but always enjoyed metal despite the often violent rivalry between the bangers and the punks/skaters in my neighborhood, so this list has a bit of both on it and is in no particular order.

Rock.

1. Metallica
Have to give them credit as being the first metal band I ever heard. My cousin came over from Scotland one summer when I was 10 or 11 and brought And Justice for All into my life. I'd never heard anything like it and wasn't sure if I actually liked it or not, but I knew that it was important. Oddly enough, it's really the only Metallica record I've ever actively listened to and it is still one of my favorite metal records of all time.

2. Mastodon
When i first heard Leviathan, I lost it. A metal record based on Moby Dick!? Brilliant. Then heard Blood Mountain, and my appreciation reached a whole new level. These guys are insane, and to hear all the different influences jump out in different songs is awesome. Technically awesome and really fun to listen to. Oh, and I saw them at Bonnaroo and somehow they actually pull the craziness off live.

3. Propagandhi
A punk band from Winnipeg. Sort of THE punk band from Winnipeg. Authors of "the soundtrack for the voluntary human extinction movement," they're angry about pretty much everything and smart enough to write about it in a way that makes sense. I wore out three cassette copies of How to Clean Everything (1993) in one summer of skateboarding with it in my walkman. Their newest record, Potemkin City Limits, is awesome.

4. Electro Quarterstaff
Three guitars, bass and drums. No vocals. All insane riffs, all the time. There is a handful of bands around Winnipeg playing crazy instrumental music and these guys are definitely at the forefront.

5. Satanic Surfers
From Sweden and no longer together, these guys were my favorite band growing up. Fast and melodic punk rock, it was the perfect music to listen to while skateboarding or snowboarding. From Skate to Hell with it's hilarity to 666 Motor Inn with its heartfelt sentiments, they were always awesome.

6. Slayer
It's Slayer. Do i really need to say anything?

7. 3 Inches of Blood
I love these guys. They're from Vancouver, Canada, and they sing almost exclusively about goblins. Nearly every song mentions a battle axe. How can you go wrong? Start with some ripping metal, throw in a couple of screamo dudes, top it off with a bearded, leather-vest-with-no-shirt-on-underneath frontman who hits notes so high they're almost out of the range of hearing, and you have yourself one hell of a great show.

8. Children of Bodom
Finnish black metal meets classic metal and hardcore. I'm always a fan of metal bands that have a keyboard player and the dude in this band is fantastic. They toured with Slayer and Mastodon on the "Unholy Alliance Tour" that came through Winnipeg one year on the last night of the Winnipeg Folk Festival. I thought that was ironic and decided I was too blissed out to go. I still kinda regret it.

9. Asado
My new favorite punk band from Winnipeg. They are fast and loud and really good. The bass player and I played in our first serious band together, 12 years ago. We were called Pass-A-Fist. So maybe it wasn't that serious after all. But we sure had fun.

10. The Sword
They're called "The Sword." How bad could it be?
--
The Duhks' new album, Fast Paced World, is out now on Sugar Hill Records.

Others Tagged With