Maine woman will do jail before returning "dangerous" book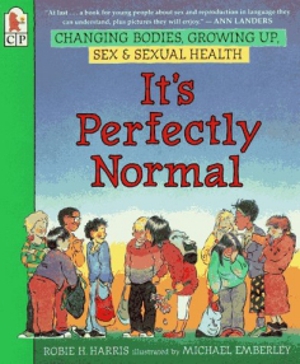 Acting on a tip from an anti-abortion league, a Maine woman has checked out copies of a sex-education book from two libraries and refuses to give them back. The Lewiston and Auburn Public Libraries have pressed charges.

JoAn Karkos, who says she was "sufficiently horrified of the illustrations and the sexually graphic, amoral abnormal contents," is willing to go to jail to prove her point.

After checking out It's Perfectly Normal: Changing Bodies, Growing Up, Sex and Sexual Health, Karkos sent a letter to both libraries, informing them that she did not intend to return the book. She claimed that it violated the city's obscenity ordinance and enclosed a check for $20.95 to cover the cost. Lewiston Library director Rick Speer returned her check, informing her that he would seek help from the police if she refused to bring back the stolen property.

That's when he received a second letter: "The truth is the contents of the book in question leads to a lot of misery, pain, lack of freedom, and often death."

This week in court, Karkos represented herself, and argued why the book shouldn't be available in the library. Opposing council repeatedly objected, saying "even if this was the most obscene book ever published in the world, it is not a defense against the charge."

It's Perfectly Normal was written by Robie H. Harris and illustrated by Michael Emberley. In 2005, it ranked number one on the American Library Association's list of most challenged books. It features cartoon drawings of naked people and covers abstinence, STDs, masturbation and abortion.

Since Karkos' actions hit the media, the libraries have ordered replacement copies, and patrons' requests for the book have risen substantially. Both locations have received a number of free copies in the mail, sent from all over the country.

Related links:
Sun Journal: She'd rather go to jail
JoAn Karkos' letter to the editor
AP: Critic of sex education refuses to return library copies

Got news tips for Paste? E-mail news@pastemagazine.com.

Others Tagged With