Mark Twain House, nearly bankrupt, holds fundraiser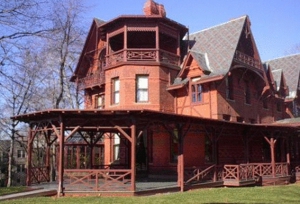 As the mortgage crisis occupies a daily space on the front page, it's somehow even more demoralizing to discover that the panic isn't limited to the cul-de-sac.

It seems our cultural icons are suffering in the same slump. Mark Twain House—the Hartford, Conn., museum and monument to America's much-loved, roguish humorist—has eked through a six-month-long 11th hour. Its most recent fundraising scheme, christened "The Adventures Started Here," took place last night and featured an impressive reading list.

Jon Clinch takes credit for the evening's festivities. Clinch is a former ad exec who audaciously culled the Huckleberry Finn crew for the basis of his first novel, a prequel to Twain's story—and, even more gallingly, succeeded in the endeavor. Finn was short-listed for the National Book Critics Circle's Best Recommended List and the Sargent First Novel Prize.

Clinch prevailed upon a group of 12 best-selling writers, all of whom waived their speaking fees and covered their own travel expenses for the fundraiser. Readers included Tom Perrota (Little Children), Phillip Lopate (Against Joie de Vivre) and Tasha Alexander (Elizabeth: The Golden Age).

The Twain House staff hopes that "The Adventures Started Here" will give the organization a much-needed boost out of the deep red, but the fight for survival will not be won overnight. The museum's ongoing financial struggle mirrors the real-life issues Twain dealt with during his 17 years as proprietor. Although the three-story house was and is a money pit, in both cases ill-fated investments were the cause of financial upheaval. Twain passed on the ground floor of Alexander Graham Bell's telephone company, sinking his funds into a printing machine that didn't work. In 2003, the Mark Twain House invested its future in a $20 million visitor center that they now don't have the traffic to support.

The museum survived the summer with increased donations after the announcement of its impending closure. The next fundraising event is their annual red-carpet fall gala, to take place on Nov. 8. For details, or to donate, click here.

Related links:
MarkTwainHouse.org
The New York Times: Writers Unite to Keep Twain House Afloat
galleycat: Save Mark Twain's Home!

Got a news tip for Paste? E-mail news@pastemagazine.com.

Others Tagged With