M.I.A. officially retires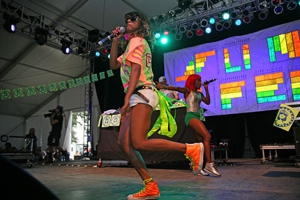 Music lovers the blogosphere over have been nervously refreshing sites ever since M.I.A's startling retirement announcement at Bonnaroo. In terms of the stages of grief, we may need to bulldoze right on through to acceptance and pour a 40 out, because she has indeed confirmed that she's bowing out of the music game. That this comes right on the heels of a resurgence in interest in "Paper Planes" thanks to Pineapple Express seems somehow less-than-coincidental.

Not only is she no longer touring, as was rumored, but she won't be recording new music either. She dished in an interview with AceShowbiz.com: "It was my last ever show. And it still is. I stopped touring after that and I didn't want to make music again. I was quite happy to just leave it all behind. I was happy with what I had achieved."

Of course, history has shown us that such retirements are rarely permanent, and on that subject the woman born Mathangi Arulpragasam kept her hand close to her vest: "With the success of 'Paper Planes', there's pull for me to make another record. Even my mum believes in me more. It's a nice encouragement. But I was planning my life as a fishing woman on the outskirts of Cambodia. That's a joke."

With music-making behind her at least for now, M.I.A says she's planning a career change. In the interview, she explained her the reasoning behind her retirement and hinted at the possibility of a big-screen debut: "I think I would have gone and made a film. As an artist you want to play around with mediums and see if you can get the point across in a different way. I wanted to stay an outsider and prolong the process of getting accepted." Yeah, because it's not like, you know, she blew up or anything.

Still, thanks to the magic of sampling and autotune, M.I.A.'s legacy will carry on, whether or not she continues as a music-making innovator or a fisherman. We'll keep you posted.

Related links:
News: M.I.A. stops touring, maybe forever
M.I.A. on MySpace
MIAUK.com

Got a news tip for Paste? E-mail news@pastemagazine.com.

Others Tagged With