New Buffy video game coming out in MMORPG form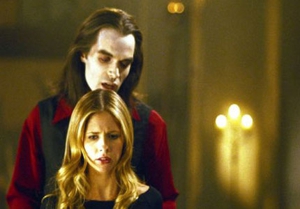 Although it's no replacement for the show, Fox and the Multiverse Network may have found a new way for Buffy fans to obsess over their favorite universe. John Landau, producer and "Advisor to Multiverse," announced the game during his keynote speech at the Virtual World Conference and Expo.

No gameplay was shown, but since the genre doesn't differentiate itself that much, it's safe to say you kill stuff to collect doodads for people too lazy to do so themselves. More interesting, though, is the project's aim to straddle the line between casual flash game and hardcore RPG. The game offers two modes, one in traditional 3D and one in 2D flash. How these interact together is unknown.
This does pose bad news for a previously announced
Firefly
-based game originally slated for launch in 2008. Despite the fact that this premise probably makes more sense, Multiverse is likely trying to avoid the same financial flop that happened with
Serenity
. The Buffy game is entering beta later this year, which likely means a full release early 2009.
Thanks to
Newsarama
for the tip!
Related links:
News: Joss Whedon back on the air with Dollhouse
High Gravity: Reason #287 Why I Should Go to Comic-Con
News: Dr. Horrible's Sing-Along Blog sequel on the way

Got news tips for Paste? E-mail news@pastemagazine.com.
Others Tagged With