The Rapture plans DJ mix with Ghostface, Daft Punk, more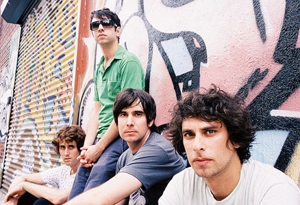 We may never actually be lifted bodily off the earth in the eschatological apocalypse, but while we're waiting we can at least jam to Tapes, an awesome new DJ mix that the dance rockers of The Rapture will release in a few weeks.
!K7 will be releasing the Tapes in the grand tradition of

DJ Kicks

, a seminal series in the world of DJ mixes.




There's a host of New York notables on the mix, which promises to be "artist-oriented and eclectic". Ghostface Killah, collab wizard that he is, puts a track in, though it remains to be seen whether he'll be slinging some fine lines or trading his medallions in for something a little dancier. Class acts like Northend, Syclops and Kid Créme round out the rest of the disc. And who else to our wondering eyes should appear on this comp than Daft Punk's Thomas Bangaltar, nonpareil of synth pyramid and robot suit.




Tapes is due Oct. 20 in Europe and Nov. 25 in North America.




Tracklist:
1. The Undisputed Truth: "Earthquake Shake"
2. Ghostface Killah: "Daytona 500"
3. Junkyard Band: "The Word"
4. The Bar-Kays: "Holy Ghost"
5. Vaughan Mason & Crew: "Bounce, Rock, Skate, Roll"
6. Northend: "Tee's Happy"
7. Don Armando's Second Avenue Rumba Band: "I'm an Indian Too"
8. Martin Circus: "Disco Circus"
9. Arcade Lover: "Fantasy Lines"
10. Thomas Bangalter: "Club Soda"
11. Kiloo & Phonique: "The Passion (Phonique Mix Down)"
12. Armand Van Helden: "Flowerz"
13. Cajmere [ft. Dajae]: "Say U Will"
14. Syclops: "Where's Jason's K"
15. DJ Mujava: "Township Funk"
16. Donk Boys: "Cpstyre"
17. Dances With White Girls: "Everybody's Got to Make a Living"
18. Alter Ego: "Why Not?!"
19. Paul Johnson: "Get Get Down (Extended Mix)"
20. Kid Crème: "Austin's Groove"
21. Richie Havens: "Going Back to My Roots"
22. Galaxy 2 Galaxy: "Afro Arps and Minimoogs (S2)"

Related links:
Others Tagged With