Roald Dahl: war hero, author, sex spy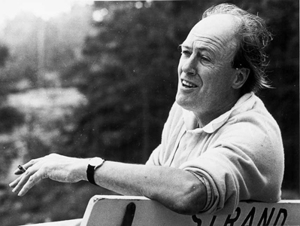 There are moments when you learn something about your heroes that forever changes the way you remember them. Be warned, dear reader, if you continue, you may never be able to look at James and the Giant Peach or The BFG without conjuring a horrible double entendre, and we won't even touch the cheap laughs promised by the titles of other books in his ouevre.

It's no great secret that after his stint as a highly-decorated flying ace in WW2's RAF, Roald Dahl came to America as an undercover agent attached to the British embassy. His job was primarily to rally politically influential Americans to the Allied cause, and he had some degree of success thanks to his connection with journalism magnate Charles Marsh. With Marsh's help he was able to recruit prominent U.S. journalists and politicians to support the UK.

What's not so well known, though, is the way he went about it. According to the new biography, The Irregulars, by American journalist Jennet Conant, Dahl's sexual liaisons in the colonies were both frequent and germane to Her Majesty's Service. Names in Dahl's little black book included Standard Oil heiress Millicent Rogers, and conservative congresswoman Clare Boothe Luce, who conveniently was the wife of the publisher of Time magazine. Luce ended up being a little too, uh, frisky for Dahl to handle and he begged to be released from the assignment, only to be sent right back into the fray. According to Conant, "A certain amount of hank-panky was condoned, especially when it was for a good cause."

Dahl always had a little bit of a risque side to him, though. After all, this is the guy who wrote the sex-soaked My Uncle Oswald, so maybe we shouldn't be too surprised now that someone is finally writing the untold story of "one of the biggest cocksmen in America."

Related links:
News: Jarvis Cocker to compose for Wes Anderson's Fox
RoaldDahl.com
The New Yorker: The Candy Man

Got a news tip for Paste? E-mail news@pastemagazine.com.

Others Tagged With