Simon Pegg, Nick Frost rumored for Tintin adaptation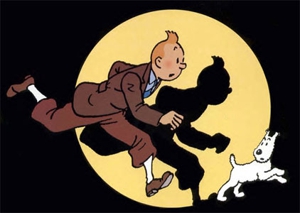 The Tintin movie is back from the dead. After a financing hiccup and rumors of the project being canned, the Steven Spielberg/Peter Jackson stop-motion extravaganza is assembling a cast and preparing to begin shooting. Based around the French-language graphic novel series Les Aventures de Tintin by Belgian author Hergé, the film promises to be a fairly faithful adaptation of the titular character's globe-spanning adventures. Much like the film's rebirth, details about the movie are emerging out of nowhere, including scuttlebutt that Shaun of the Dead and Hot Fuzz alums Simon Pegg and Nick Frost may have landed some choice parts.

As reported by the Times of London, Pegg met with Spielberg on the film's set, where he sat down for a tête-à-tête with the illustrious filmographer. While there, they talked about the possiblity of he and comic cohort Frost filling in as the bumbling twin detectives Thomson and Thompson. "I shook his hand and chatted about films," Pegg said. "He gave me the [motion-capture] camera, and I had a play around with it. Then he said, 'Hey, maybe you and Nick Frost could play the Thompson Twins.' In Tintin. A Spielberg movie. To work with him is beyond..."

The interwebs are abuzz with rumors that the pick has already been made, but no official word has arrived yet. Stay tuned for continued updates on Tintin-gate, this one looks like it could be something special. Let's just hope they don't go too easy on Captain Haddock's affable-yet-sinister alcoholism. Hey, with the Hollywood treatment comic book adaptations are getting these days, Tintin could be a regular Tony Stark.

Related links:
News: Simon Pegg and Nick Frost working on Paul
Tintinologist.org
Google Video: Tintin in Tibet

Got a news tip for Paste? E-mail news@pastemagazine.com.

Others Tagged With