Jonze's Where the Wild Things Are back on for Oct. 2009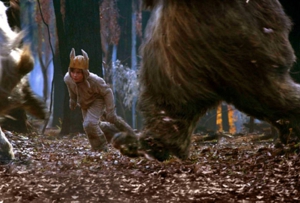 You just kind of have to wonder what happened on the first round of shooting for the adaptation of Where the Wild Things Are.
First, you take the beloved children's book by Maurice Sendak and get Dave Eggers and Spike Jonze to write the script. Then you hire Jonze, who last made the mad epic Adaptation in 2002, to direct. Then you hear that he wants to shoot the movie with huge animatronic puppets as the titular wild things, scratch your head a little bit, then fork over $80 million and see what happens.

What do you get? Famously disastrous test screenings in which kids leave in hysterics. Well, maybe not, but that's not to mention the wonky test footage that got an angry response from the luminary in charge. Or the fact that the movie disappeared altogether from the release slate at Warner Bros.

That was the grim picture just six short months ago, but news from /Film indicates that the reshoots scheduled for this summer made at least some headway, because the film has returned to a Oct. 16, 2009 release date. Jonze reportedly secured final cut on the project a long time ago, but with the ballooning budget, that doesn't necessarily mean total control. Then again, Warner Bros., after its historic success this summer with The Dark Knight, hasn't been having the best few weeks with the management of its event movies, so maybe the studio finally budged a little on creative issues?

Given that the new date is still a good 13 months away and completely subject to change, maybe that's not so likely. But with Jonze's sterling reputation and the kind of attention the film has received through its long, painful (re)production so far, it seems as if it would be in the studio's interest to put out a movie complex enough to live up to its reputation. In any case, the Jonze faithful are certainly sounding their rallying cry.

Related links:
News Spike Jonze has final cut on Wild Things?
News: Karen O is Where the Wild Things Are
Review: The Work of Director Spike Jonze

Got news tips for Paste? E-mail news@pastemagazine.com.

Others Tagged With