Sufjan Stevens helps out The Welcome Wagon's debut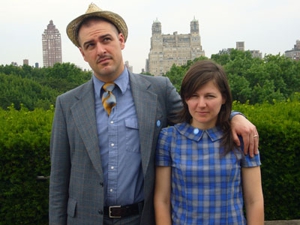 Through the long, storied career of Sufjan Stevens (from fiddling with recorders and percussion in Marzuki to his solo swan-rise), the man has played midwife to a huge number of musical acts, both his own and those of his label, Asthmatic Kitty. But these days Stevens is moving away from his four-percent-completed 50-state traipse, instead choosing to return to the spiritual swell of Seven Swans by recording, producing and arranging a debut album for gospel group The Welcome Wagon.

The duo, comprised of Reverend Thomas Vito Aiuto and his wife Monique, will release
Welcome to the Welcome Wagon
this Dec. 9 on Asthmatic Kitty. According to Stevens's own estimations, the two singers "reside in the fussy category called 'church music,' where family and theology have long accompanied the musical deeds of married partners." But like many Stevens-related
Sounds Familyre
artists, the influence of Testaments (both old and new) glimmers only with a folk-pop veneer—in this case a parlor guitar, a plastic glockenspiel and, of course, some many-tenored arrangements.
Welcome's
Welcome
will include 12 tracks' worth of folk-gospel duets laden with Stevens' orchestral flourishes, including "Sold! To the Nice Rich Man," which can be found on the
band's website
.
Track listing:
1. Up On A Mountain
2. Sold! To The Nice Rich Man
3. Unless the Lord the House Shall Build
4. He Never Said A Mumblin' Word
5. Hail To The Lord's Anointed
6. But For You Who Fear My Name
7. American Legion
8. You Made My Day
9. Half A Person
10. Jesus
11. I Am A Stranger
12. Deep Were His Wounds, And Red
Related links:
Welcome to the The Welcome Wagon release announcement
The Welcome Wagon on Asthmatic Kitty
Feature: Paste's 100 Best Living Songwriters - #47 Sufjan Stevens

Got news tips for Paste? E-mail news@pastemagazine.com.
Others Tagged With