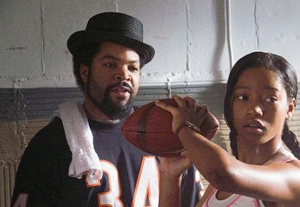 Release Date: Aug. 22

Director: Fred Durst

Writers: Nick Santora

Cinematographer: Conrad W. Hall

Starring: Ice Cube, Keke Palmer, Tasha Smith, Matt Craven

Studio/Run Time: Metro-Goldwyn-Mayer , 94 mins.
The feature debut for Fred Durst
—yes,
that
Fred Durst
—is not something one might've expected from a nu-metal frontman.
Rather than irony, bad jokes and painfully outdated pop-culture references, Durst's feature debut is actually a fascinatingly earnest PG-rated sports film.
Not only that, but cast for his lead is Durst's friend Ice Cube. Two guys who came straight outta Compton and told us where we could stick our collective cookies respectively, when combining for a theatrical work, instead offer up "some thematic elements, mild language and brief rude humor."
The
times really are a-changin'.
The Longshots rests squarely in the much-maligned genre of "_______'s can't play ______" sports movies, in this case throwing down against the idea that girls can't play football. Jasmine (Keke Palmer) joins a football team as quarterback after receiving training from her uncle. Instead of just a girl-power film, though, being the only girl on the team is more about representing her estrangement from everyone else than about breaking down gender lines. Meanwhile, her uncle (Ice Cube) regains self-confidence by falling into a position coaching her team to a championship game.
It's a by-the-numbers Hollywood movie, but a surprisingly competent one. Ice Cube's performance and his chemistry with Palmer makes the film's sentiment seep past walls of cynicism in a way rare for this type of feature. While by no means a cinematic masterpiece, the film is watchable almost in spite of itself. The Longshots is the first time a work by Fred Durst has felt more like an artistic statement than a threat.
Watch the trailer for The Longshots:

Others Tagged With