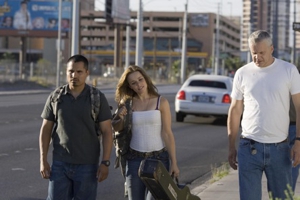 Release Date: Sept. 26
Director: Neil Burger
Writers: Burger, Dirk Wittenborn
Cinematographer: Declan Quinn
Starring: Tim Robbins, 
Rachel McAdams, Michael Peña
Studio/Run Time: Roadside Attractions, 120 mins.

War film falters

Audiences haven't exactly been flocking to movies dealing with the Iraq War lately. Perhaps by inserting its story into the road-movie template and sprinkling with a light dusting of comedy, The Lucky Ones will fare better—that is, if viewers can get past its plotline clichés, faltering script and simplistic view of anti-war criticism. Tim Robbins, Rachel McAdams and Michael Peña play three injured soldiers who are serendipitously thrown into a cross-country road trip together while home on leave. Though McAdams infuses her character with a cloyingly forced innocence, Robbins' and Peña's performances are solid, allowing for some genuinely affecting moments in the dialogue-heavy movie. But as the three soldiers bond while dealing with the precipitous turns of events in their lives, contrived plot twists muddle the film, as does the suggestion that only those who have been to war can have a real opinion about it.

Watch the trailer for The Lucky Ones:
Others Tagged With