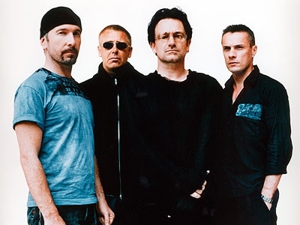 U2: digging for diamonds in a coal mine? Not really. The band is actually recording in the South of France, an album that was expected to be released by now, but Bono says their efforts have been fruitful…or gem-ful. On U2's website, the frontman forged the mining metaphor, saying that "it gets a bit dark down here but…why come above ground now when there's more priceless stuff to be found?"
It seems the process has been more than prolific. They've recorded between 50 and 60 songs, and there's more to come. "We've hit a rich songwriting vein and we don't want to stop."

The follow-up to 2004's How to Dismantle an Atomic Bomb has been pushed back to 2009. While the members of U2 made a pact not to rush their creative inspiration, Bono says he's itching to get the material out. He hopes that fans will be able to enjoy the record of their labor soon. "We want 2009 to be our year, so we're going to start making an impression very early on…"

Related links:
U2 on MySpace
YouTube: U2 - "With or Without You"
News: New U2 album peeks over the Horizon in November

Got a news tip for Paste? E-mail news@pastemagazine.com.
Others Tagged With