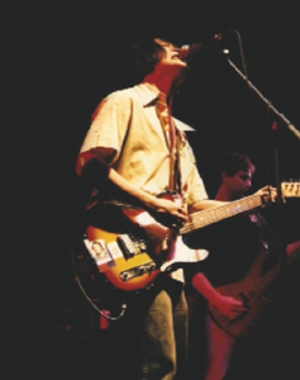 I hunched sniffling and red-eyed over the sea of copied cassettes scattered across the peeling grey hardwood floor of my Athens, Ga., living room. Sick-to-my-stomach heartbroken, solid food was out of the question: A liquid breakfast would have to suffice. White-knuckle clutching a plastic half-gallon of orange juice I'd dumped out halfway then filled back up with vodka, I leaned back and took a long, deep slug. After a while, empty container in hand, I passed out on the floor.

There are a lot of responsible ways to handle a breakup, but when you're 20 and in love for the first time, none of them seem to cross your mind. I was alternating between making sad-bastard soundtracks to accompany my misery and compiling the perfect musical argument that would somehow win her back. Before you offer your sympathy—I broke up with her. But for God's sake, how was I supposed to know she was going to eventually date someone else? I'd just assumed she'd join a convent or something.

It was late 1999, and I was living in a dilapidated blue rental house just north of downtown. I didn't know it at the time, but the place was only a mile from producer David Barbe's studio, Chase Park Transduction. So while I was washing away the pain in my heart with cheap liquor, Barbe was just down the street, laying to tape what would become some of the most important music in my life: Drive-By Truckers, Bright Eyes, Bloodkin, Vic Chesnutt and Kevn Kinney all recorded at Chase Park (not to mention R.E.M., Bob Mould and the Olivia Tremor Control). But no one spoke to my mix of confused heartache, burning beat-poet-inspired romanticism and early-twentysomething self-destructive stumbling more than the rag-tag group of local restaurant workers in Flood City Shootout. That same year I was taking my first knocks in the battle for true love, they were down the street at Barbe's studio, working on their self-titled debut. You've almost certainly never heard it, which is a shame, because it's one of the greatest albums ever recorded.

Generally, I agree with Mick, Keith and the rest of the Stones: You can't always get what you want, but sometimes, you get what you need. Halfway into the following year—after my girlfriend and I got back together, launching an epic, near-half-decade off-and-on rollercoaster ride—a waitress I worked with at Loco's Deli and Pub, where I was a line cook, handed me a record that the bartender, Ed Connolly, and one of the delivery drivers, Joe Guerzo, had just made. "You've got to hear it, it's amazing!" the waitress promised. And she was right. Flood City Shootout's debut was a soulful, blistering and, at times, gorgeously sighing mix of heartfelt rock and power-pop, all riding atop a bed of alt.country twang. Guerzo crawled inside his lovelorn lyrics, singing them with deep longing and visceral heartbreak—but with a slightly wiser take on things than I was capable of at the time. He was a few years older; a little further down the path, and as the songs cycled through every emotion and mood I was feeling, as the guitars wailed or the fiddle quivered lonesome and sad-eyed, there was transcendence—a way through this pain and back to normalcy, trading innocence for experience in the process.

I was living the wistful nostalgia of "Bootstrap Poetry" and the lonesome waltz of "Dishwater Blues," trapped inside my mind at the same steaming dish pit where Guerzo himself had scrubbed pots and pans, waxing philosophical on life and love like only a dishwasher can.

Flood City Shootout made one more independent album before fizzling out, but only the first was truly great. Still, making even one record that powerful, being a part of something that affected people's lives in such a profound way—even on a small scale—is something no one can ever take away from you.

I eventually got to know Joe and Ed a little—at Loco's, at the bars and clubs in Athens and at the bowling alley Ed now owns, Kingpins. Joe is still chasing his muse, making music with a new band called the Vinyl Strangers. As for me and the ex-girlfriend, after several years of being incommunicado, we're friendly now. She's married, but I haven't settled down just yet; and every so often, when I feel like I'm in some love-gone-wrong Willie Nelson ballad—when a relationship's embers are dying, or the door slams shut on what, for a moment, seemed so right—that Flood City Shootout disc is still there to remind me I'm not alone.

Hear streams of selected Flood City Shootout songs and read the album's lyrics here.

Others Tagged With