Zach Galifianakis, Ted Leo split 7-inch in time for Chunklet 20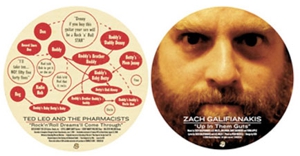 Grab a spatula, 'cause you're gonna wanna scrape your jaw off the floor. That's right: It's been three years coming, but Athens, Ga.-based Chunklet Magazine has announced that its 20th edition is hitting the streets later this month. And, even better, those brave souls who order through the website can also purchase one of the mag's famous split 7-inches, this time shared by none other than fern-straddling, awkwardness-brandishing, comedian extraordinaire Zach Galifianaikis and head Pharmacist, Ted Leo.

Chunklet declares, "One would think it an impossibility, but it's happened." One certainly would, and it certainly has. Side one is the ("danceable"?) track "Up In Them Guts" recorded by Galifianakis with help from comedian AD Miles, producer Jon Brion and longtime Galifianakis collaborator Fiona Apple. Side two is the song "Rock'n'Roll Dreams'll Come Through," freshly recorded by Ted Leo with his Pharmacists.

The 7-inch is available for pre-order now, but will not ship until late September, and must be purchased with another purchase from Chunklet.com. So, purchase.

Issue 20 of Chunklet features interviews with Galifianakis, Paul F. Thompkins, Jon Glaser and Sublime Frequencies, as well as lots of other pieces on bands sporting weird names like "Deerhunter" and "Black Lips" and "Arcade Fire" and "Mogwai." Psh. Where they come up with this stuff, we'll never know.

Related links:
Rhymes with Crouton: The Touching Story of Zach Galifianakis
Reality Bites: Rewiring Fiona Apple's Extraordinary Machine
Local:Atlanta: Live Review: Deerhunter @ Vacation Gallery 8/15/08

Got news tips for Paste? Email news@pastemagazine.com.
Others Tagged With