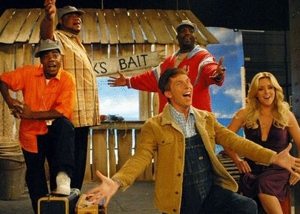 Release Date: Oct. 6
Creator: Tina Fey
Writers: Fey, Robert Carlock, Jack Burditt, Matt Hubbard,
 John Riggi, Brett Baer, 
Dave Finkel, Kay Cannon
Starring: Fey, Alec Baldwin, Tracy Morgan, Jack McBrayer, Scott Adsit, Jane Krakowski, Judah Friedlander

Studio: NBC Universal

Meta-hilarious

One can only dream that behind-the-scenes goings on at sketch-comedy television shows match 30 Rock's wackiness. Created by Tiny Fey, the series centers on head writer Liz Lemon (Fey), who must carry the show-within-the-show amid the antics of the talent (Tracy Morgan) and a crazy executive producer (Alec Baldwin). Cleverly dealing in meta-humor may account for 30 Rock's critical success and slow ratings. For instance, Baldwin's character introduces a ratings scheme called Seinfeld Vision, digitally inserting the comedian into NBC programs. Naturally, Seinfeld shows up to threaten the executive. That his appearance coincided with the release of his Bee Movie was a joke lost on those accusing opportunism. Such are the comedic stylings of a show that eschews cliché often by exploiting it: See Lemon choose "a sandwich over a guy," scarfing it down in real time at airport security. The Peabody Award-winning series supplants its much-improved second season on DVD with voice-over commentary from cast members, plus Fey hosting SNL, and 30 Rock live at the UCB Theatre. If only Tracy Jordan's novelty music video "Werewolf Bar Mitzvah" were also included.

Watch the "Werewolf Bar Mitzvah" clip from 30 Rock Season 2:
Others Tagged With