Ben Kweller talks new country album, Avril Lavigne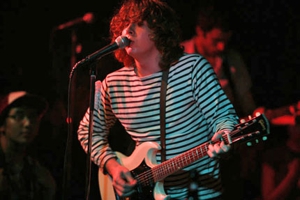 Ben Kweller promises that his upcoming record
Changing Horses
, due out in early February on ATO Records, will have both kinds of music on it—country
and
western. "The 10 songs are stories about characters that live in the alleys of society," he said during a stop by the
Paste offices
last Friday. "It's all old-school country and western with pedal steel and dobro. Sometimes country or folky songs show up on my different albums, but I've been saving these for a record just like this. I've been writing these songs for 13 years."
Country radio was just about all Kweller had to listen to growing up in Greenville, Texas, a town with just more than 20,000 that also gave the world platinum-selling country singer Collin Raye. Garth Brooks was replaced by Nirvana and punk in the early '90s for Kweller though, and he couldn't go back. "That new [country radio] shit's just bad Avril Lavigne with cowboy hats," he said. "Alan Jackson is one of the only real deals left. He writes his own music, which is about as punk as you can get in that Nashville scene."
Gill Norton (Pixies, Counting Crows) produced the new record at Spoon drummer Jim Eno's studio in Austin, Texas. The album features the rest of Kweller's "Trio on the Train Track," Chris Morrissey on bass and Mark Stepro on drums, along with newcomer Kitt Kitterman on pedal steel.
Related links:
A/V: Ben Kweller plays the Paste studio
News: Ben Kweller rides Horses, goes on tour
Review: Ben Kweller - Ben Kweller
Got a news tip for Paste? E-mail news@pastemagazine.com.
Others Tagged With