Brad Pitt on board for The Odyssey in space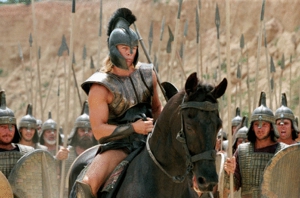 At first, it sounds pretty routine: Variety reports that Brad Pitt has added a new adaptation of The Odyssey to his roster as a producer, and Warner Bros. is reportedly trying to maneuver him into the lead role. Sure, his previous Homer adaptation Troy (pictured above) took its time making back its budget, but these are the kind of evergreen epics almost guaranteed a profit. Nothing to see here.
Then you get to the fine print: Warner wants the movie to be set in space. As in, outer space.

It sounds disastrous in a serious way. Which is why we figure that the movie, no doubt planned to have a nine-figure price tag, must have a hook the studio hasn't revealed. Pitt has had his share of flops, but with The Curious Case of Benjamin Button on the horizon, this looks like it could be a very good year for him. It's hard to believe he would get involved in a project this wonky if he didn't have a reason.

Besides, with talent George Miller (Babe, Mad Max) confirmed to join Pitt in the preproduction process, there has to be something more to it. Doesn't there?

Related links:
Ctrl-V: Trailer Stash: Australia, Benjamin Button and Seven Pounds
News: Brad Pitt, Paramount option Lost City of Z
News: Tarantino rounds up Bastards, but no Britney after all

Got a news tip for Paste? E-mail news@pastemagazine.com.

Others Tagged With