Catching Up With... Brendan Canning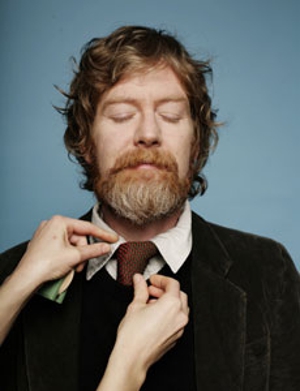 Page 1 of 2
It may have taken Brendan Canning 18 years to release his first solo disc, but like his bandmate Kevin Drew before him, he has loads of help. Co-founder and leader of Canada's Broken Social Scene, Drew planted the inaugural "Broken Social Scene Presents:" flag with Spirit If…, a solo album masked as a Broken Social Scene proper release or vice-versa. Despite the latent marketing cash-in with the album's title, it wowed audiences and critics alike.
Canning would be next, and July saw the release of the amicable indie collective bassist's solo album, Something For All of Us… It's an album running rampant with the kind of eclecticism one would expect from a man who plays DJ at celebrity parties. Psychedelic grooves rub elbows with funk undertones and BSS' usual lo-fi rock 'n' roll.
Paste caught up with Canning before he embarked on a lengthy fall tour with his BSS cohorts. Topics ranged from his soccer travails, the possibility of BSS drummer Justin Peroff picking up where Canning left off, and a discussion of his reaction to the music industry's losing fight against illegal downloading.
Paste: Fans of your work thus far have primarily known you as a bassist for Broken Social Scene, but on this new album you definitely step out from behind the curtain as more of a singer and arranger. Was that a stretch at first or was it a smooth transition for you?
Canning: As far as laying down the guitars, keys, horn riffs and string arrangements, that was all stuff that I had done before. Vocally, I was trying to connect some sort of meaning to a tune and not detract from the mood already created. That's what I mainly tried to do. I didn't want the lyrics to stick out too much so you're all of sudden, "Oh, that's a fucked up lyric." I wanted to fit them into the vibe of the song.
Paste: Are there any vocalists that you try to emulate or is that too dangerous for a singer to do?
Canning: No, I think that's probably too dangerous. There are lots of vocalists that I think are great whether it is PJ Harvey, Jeff Tweedy, Johnny Cash, or whomever.
Paste: It's best to come across as authentic.
Canning: You sing a bunch of stuff and then all of a sudden you realized that one line reminds you of that one song or melody. One small part of a song may remind me of ABC's "The Look of Love," but I don't try to sing like them.
Paste: Your reaction to Something For All of Us… leaking was very emotional, of course. How do you combat that now, beyond what labels do already?
Canning: You have to try and find a way to sell your music in a fair way. There's a lot of that going on in Canada with legislation trying to pass that puts digital locks on CDs so you can't put it on your iTunes or the Internet. It's a bit of a headache, to be honest, for someone who buys vinyl. I don't quite understand why you would want to get an album and just post it up on a site. I think a lot of people just have too much time on their hands, and spend too much time in front of the computer. They need to get outside and interact with people. When I was 14 in the suburbs, I would go down to the big city and go to the record shops. That was a really exciting thing. We have a cynical generation due to information overload. They know a lot about little things. It makes the process of making music less significant somehow.
Paste: Broken Social Scene is known for its lo-fi sound, but on Something For All of Us… you present something that is slightly more polished. Where do you find yourself on that spectrum? Do you gravitate towards a clean or noisy sound?
Canning: I'm still trying to figure it out. There are especially messy moments as well. Kevin [Drew] is less interested in full-on feedback noise than I am. It all depends on what the song needs. We had a lot of moments on this record where we tried to scale back some of the massive guitars and feedback tracks.
Paste: On the last proper Broken Social Scene album there was reportedly 172 tracks on one song. Is that the type of aesthetic you were scaling back from?
Canning: Yeah, I think that got exaggerated a little. It was 140. That's with different mics on the drums or the guitars might have four different mics. That's not 140 individual instruments. So we had a microphone up close, and then for the mid range and then an ambient one. I wouldn't recommend trying to make a record like that.
Paste: Many interviews with you or Kevin about that recording of Broken Social Scene (2005) seem to portray it as a long and drawn out process. What do you see looking back?
Canning: I think it's a cool record. We got a little bit lost in it. It's confusing when the band gets a lot of praise for one record [2002's Your Forgot It in People] and that sort of overtakes the next one. It's a very classic tale. When we play songs from [Broken Social Scene] like "7/4 (Shoreline)," "It's All Gonna Break," "Ibi Dreams of Pavement (A Better Day)" or "Superconnected" live, they are still tunes people definitely react to in a very kinetic kind of way.
Paste: I'd like to talk about one of your other loves besides music, soccer. How's your team doing and your left hand?
Canning: I've since changed teams. When we spoke last I was playing on a third division team and my injury stemmed from something very clumsy. I am now back to playing with my team of four years and we are in the first division. The competition is much stronger but I prefer it that way. We are currently 5-1. Our first loss was to a Portuguese team last Friday with a back line built of brick shit-houses. I believe that's what you call them.
Paste: Of the two producers for the new album (John La Magna and Ryan Kondrat), Ryan is your next-door neighbor. How did that relationship start?
Canning: He has a studio and for a couple years he always asked me to come up and record. At first I was hesitant because you kind of go into a serious relationship when you do that. I was a bit weary and first because he had a sketchy roommate that was a bit cracked out. John I always knew and he was over at the house anyway. He lives a block or two blocks away from us.
Paste: With this new producing relationship, was it more laid back as far as deadlines?
Canning: We had endless amounts of time to record, which is dangerous.
Paste: You seem to be drawn to that dangerous recording environment or are at least accustomed to it from your time with Broken Social Scene, right?
Canning: It's easier. I've noticed that I can knock out a song in a day and a half. It may not have multi-layered feedback on this track, but I got it done. With the computer age you can quickly throw different things around. For "Hit The Wall," we tried a lot of different vocal ideas. We ended up having three choruses to the song. It's based around one little guitar lick essentially, but not too many parts repeat. The bass pushes the song to new places.
Others Tagged With